Xmas is in full swing!
As we are now in December, there's no use denying it, Christmas is coming quick!  Xmas preparation and chaos are in full swing.  If you didn't do some prep work before hand, things may be a bit chaotic by now.  But you can still check out my list of things to do to prepare for Xmas, to keep you on track.  But we have to move forwards, and one of the things we do each year is we either buy or make a special Xmas ornament.  It gets numbered and added to the collection of ornaments that we use. In honor of the  years we made our own personalized ones, I've created this list to give you some ideas on how to make your own easy Xmas ornaments for the holiday season.  
If you're a crafty person, you can take on this activity by yourself, or you can have the kiddos help you out.  Over the years, I've done both 🙂
Easy Popsicle Stick Reindeer Ornaments
This one is easy and fun for the kids.  You need 3 popsicle sticks, paint and a fluff ball, googly eyes optional, some paint and glue.
Glue the three popsicle sticks together into a triangle, leaving a bit of an edge on 2 side.  Paint them to your hearts content.  Once dry add the fluff ball for a noise and googly eyes if desired.
You don't need to be Picasso for this activity.  As you can see, our reindeer ornaments leave a bit to the imagination…. but it was a fun and easy Xmas ornament for the kids to make.
And just like that your first easy Xmas ornament is done!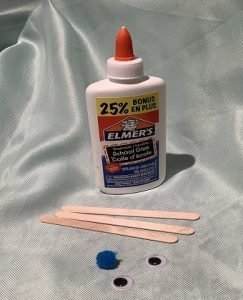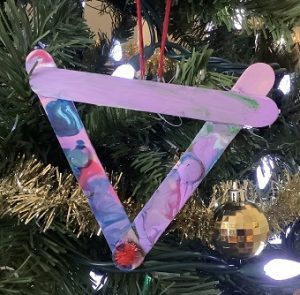 Mod-Podge/Glue Ball
Another messy one, but also fun for little kids (and adults).  
From your local craft store or your local dollar store, buy a Styrofoam ball.   It can be big or small, I used 3″ ones.
You will also need some tissue paper.  Seasonal color are optional, but we tried to stay in the holiday theme, so green and red all the way.
We cut pieces of tissue paper  covered them in mod-podge and placed them on the ball to dry.  If you have a toddler using mod-podge isn't recommended. In that case, glue can be used as an alternate.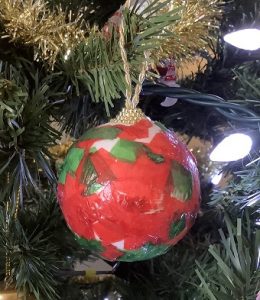 Craft glue, like Elmers glue, is non-toxic, so a better option of the little one.  With a paintbrush (or hands)  apply the glue onto the ball and add the tissue paper.
Another easy Xmas ornament done!
Picture Bulbs
This one takes some prep work.  As you need pictures to use before you start this activity.
From your local craft store, you can buy clear empty Xmas bulbs.  They come in several different sizes.  I recommend the larger sizes, as this allows for a larger picture inside and it's a bit easier to work with the larger ones.
Using the picture of your choosing, cut it into a circle slightly smaller than the bulb.  For example, if you have a 3″ bulb,  your picture should be cut into a circle that is about 2.75″in diameter.
When I do this, I like to add a note on the back, with the year on it.  That way, in future years I can look back and know what year it was when it was taken.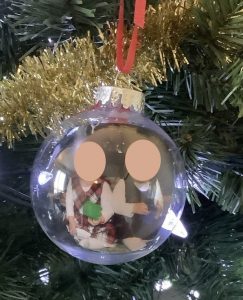 If you don't attach a string to the pictures, after about 2 minutes, the picture will be face down. I recommend either making a small hole in the picture to loop some string through.  I've glued it between my picture and note, as I use a separate paper to write the note onto.
Finally, getting the picture into the bulb, takes some finesse.  Rolling it up to fit into the bulb hole carefully so that there are no bends made into the picture.
There are also blubs that can be open through the center of the bulb.  I don't recommend these as they don't stay shut, and getting the picture to stay put is very challenging.
An almost easy Xmas ornament done!
Easy Bulbs with Vinyl
In my early years of Xmas ornaments, they were all purchased at the local dollar store.  They were plain as plain can be.  However, they had nice colors to them, and they have help up very well over the years.
So, now, after years of these plain ornaments, I have added some life to them.
Using my Cricut, I made a quick xmas design and cut it in vinyl.  Then, just like a sticker, applied it to the ornament. 
Anything from a simple Xmas phrase, or snowflake, or even a Grinch will add some character.    More elaborate designs are acceptable also :p
Another easy Xmas ornament done!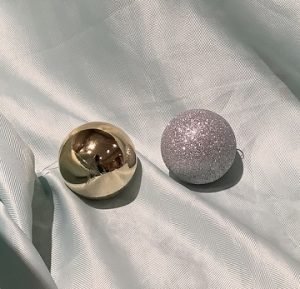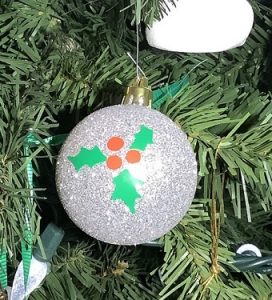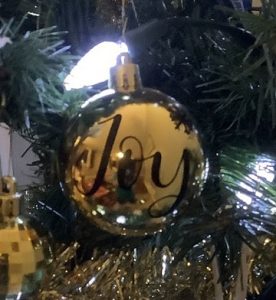 Easy Wood Ornaments with Vinyl
One of the latest trends is to by round wood pucks and slap some adhesive vinyl onto it and easy Xmas ornament done!
This is the same as the bulbs with vinyl above, just on wood.
I didn't feel like buying wood pucks, but as  I had left over 4×4, which I used instead.  Any wood pieces will do.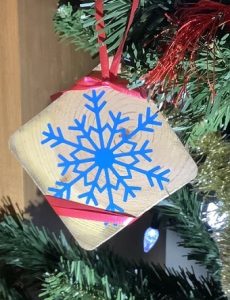 Once the design was applied, add some ribbon.
Drilling a hole in a top corner or the center of one side is an option.  I wasn't in the mood to make a mess, so I just tied the ribbon around the wood and looped it.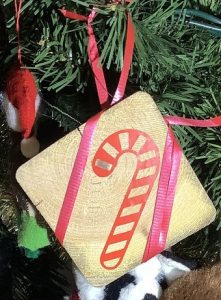 Wood Ornament with Paint
With more of the same left over 4×4 from the above ornaments, I got my kids to paint them and and we made them into ornaments.  
A bit messy, but the kids had a great time!
Once the paint is dry just added some string around the edges.  I didn't want to drill holes in their design after the painting was done.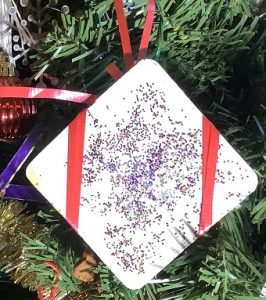 Final Thoughts
I have seen lots of trees decorated over the years.  Some are super fancy, and some are more eclectic.  But they all mean something to the people that dress them.
For my family, the tree doesn't have to be balanced perfectly with ornaments and ribbon.   We are heavy on soft ornaments at the bottom of the tree, and heavy with fragile ornaments up top, intertwined with easy Xmas ornaments and the works everywhere else.
The tree doesn't have to impress anyone.  It's just for us, and your tree should also be for just for you. So, go make it special!
Was this List Helpful?
Did you find this list on easy Xmas ornaments helpful?  Let me know your thoughts in the comments below!
If you liked this list, be sure to check out my other my other Xmas lists here.
Sign up for my newsletter to get access to my Resource Library and the inside scope on what is coming up!