Painting Acorns
It's that time of year where there are lots of rainy days ahead.  And rainy days means spending lots of time inside.  One of the things I like to do with my kids is to do some crafts to keep them busy.  This helps with keeping them out of trouble and reduces the bickering.  So, I had my kids do some crafts that we can use for other things so that the end-product doesn't go straight into the garbage after they are done 😛  And this is how we came to the acorn centerpiece.
Making an Acorn Centerpiece
One day I decided we were going to make a centerpiece for our dinner table.  One that could be used for a few weeks in the fall and Thanksgiving. Once the season is over, they can be tossed into the compost bin.  Easy peasy. 
This post contains affiliate links.    I may receive a commission if yopurchase an item from one of my links. This will not change the price you pay.
What You Need:
Acorns – a lot of them.  Don't be fooled.  These guys are small and you need quite a few to make even a small center-piece for your table
Paint – random colors will do, but if you're trying to stay within the autumn theme, you might want some fall colors (dark orange, reds, yellows, browns)
A centerpiece bowl/plate – remember, you don't want this to be too big, because then you'll need lots of acorns to fill this in.
Let's Begin!
Find your acorns!
It's best to go to a local park or forest to pick some acorns.  But if you have an oak tree in your backyard, you're in luck and can just pick them from there.  Remember, these guys are small, so you will need more than several hand-fulls for this project.
Paint!
Set up your work station for the kids.  I typically cover the table with newspaper and cover the seats with an old sheet so keep the paint off the furniture.
Let the kids paint the acorns.
I try to have them paint several different colors so that they're not all the same.  But really, whatever the kids want to keep them busy. 
Let the acorns dry.  Depending on the type of paint you're using, this can take anywhere from a few minutes to a few hours.  But as the surface area of the acorn is small, it shouldn't take too long.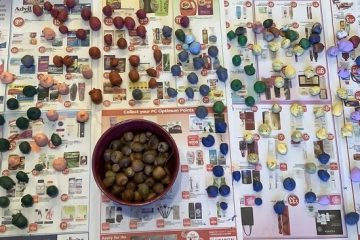 Assemble
Once all the acorns are dry, I mixed them all into the centerpiece container.  I left some acorns unpainted and mix them in as well.  Just to give it some more variety of color.   And now you have an acorn centerpiece!
And That's It! You're Done!
Lessons Learned
I was hoping that this would be a simple and fun activity for my little ones, but it was a bit more than I bargained for.  Here what I learned:
Acorns are hard to paint – even for adults.  Those little things slip right out of your fingers, and once they have paint on them…. watch out!
Kids will paint 2-3 acorns before they are bored.  Fortunately, my girls found snail shells on the walk and decided they wanted to paint those as well, so it kept them busy for a bit longer.
You need a LOT of acorns for a nice centerpiece.
On the plus side having lots of acorns in different colors was a great activity for my 1.5-year-old, who just had a hoot playing with the acorns, and sorting and putting them into different bowls and cups.  
Would I do this acorn centerpiece activity again? Absolutely!  Even though I was stuck with the bulk of the work, which is usually the case when it comes to crafts, it was fun, and all the kids got something out of it!
Was this Tutorial Helpful?
Did you find this tutorial helpful?  Let me know your thoughts in the comments below!
If you liked this tutorial, be sure to check out my other tutorials here
Don't forget to sign up for my newsletters!  You'll get inside tips on upcoming posts and additional behind the scenes details about what's happening on the site!