I'm not one to prepare for Christmas early. Gifts are not purchased in August, I'm lucky if I buy them 2 weeks before the big day.  The tree and the lights aren't up and sparkling right after Halloween.  Christmas music isn't playing in my house to get into the spirit.  But I do several minor things to prepare for the Holidays beforehand.  Just so that life is a bit easier in all of the chaos that is involved with the Holidays.
Here are the things that I do before the Holiday season starts to prepare for Christmas.  And they all have a pretty good reason behind them.
1. Put up the Christmas lights
Where I live, it gets COLD.  And putting up Christmas lights in the cold is NOT FUN!  So, there are usually one or two warm-ish days in late-November where you can work outside without freezing your fingers off.  I take this opportunity to put up the lights.  I string them on the house, the trees, the bushes, the pillars, the works.  Think of the Grizwalds.  Bright, bright, bright.  
I get the lights all set up.  I check all the strands to make sure they work.  And then I leave it.  I don't plug them in again until December.    They are only up early because I hate working outside with lights in the cold.
Thing 1, done!
Make an evening or afternoon activity out of it!  Sit down at the table and write a letter to Santa!  If you get the letter mailed before December 10th, Santa should get back to you before Xmas!
Santas Address, just in case 😉 
           Santa Clause,
           North Pole, 
           Canada
          HO HO HO
It's always nice to have some catalogs for the kids to look through, in case they don't know off the top of their heads!  We've been receiving them in the mail from companies like Indigo, and Mastermind Toys,  and they are stocked with toys!
3. Letter To Grand-Santa - AKA Grandparents
Make a list of all the gifts you want for your kids. If you wrote the letter to Santa above, this should easy.  But also include all the clothes, and little trinkets, everything. Get this list to the grandparents ASAP. Grandmothers have an affinity to prepare for Christmas early and buy gifts in August.  You don't want to be stuck with presents the kids don't like, or clothes that are too small (and you'll be stuck having to return them). Get a list to them.  You can even put their names on it, like gift A from Grandma A, and so on. You can download a free Xmas list below if you need help with this!
I will do one of 2 things with cards.  I will either: buy discounted cards at the end of the season to use the following year, or I will make cards in advance with the kids. Or both.
But as the season is already upon us, buying cards last year might be a bit tricky (unless you have a time machine… in which case we should talk). 
But if you happen to have some leftover from last year or you make your own cards, it's not much work to write a card or two a night (with a glass of wine or beer in hand).  You can start this early as you say the same thing every year.  And let's be honest, it's not like something crazy exciting is going to happen between now and Christmas.  So knock some cards out, and before you know it, they're all done.
If you are more crafty and want to make cards, you can do it yourself or have your kids help.  Check out this How-To on making your own cards.
Nothing says Christmas like a decorated Christmas Tree.  I set the tree up on the first Saturday of December.  Things aren't as chaotic yet, so this is an excellent time to get this done.  And with the kids around, this can become a whole day event.
We put up the tree, the stocking, the garland, and make the house festive.  Doing decorations inside the house can be done at any point as it's nice and warm inside.
If you have gathered anything about me so far, it's that I'm not really interested in spending money needlessly, so I do my own Holiday pictures.  With 3 kids, even a professional photographer will have a challenge getting them all to face the camera.  But taking your own pictures always show a bit more of the kids' personalities.
After the Christmas Tree is up (Saturday), we stage the Pictures for Sunday.  There's no need to go to the gym on this day.  Getting everyone into nice outfits and wrangling them around the tree for a 20-minute photoshoot will work up quite the sweat!  And before you know it, you'll have 300 pictures taken.  200 will be blurry, 75 will have someone/everyone crying or screaming, 20 will have 1-2 kids smiling/looking vaguely at the camera.  1-2 will be usable.  That's all you need!
As much fun as the Christmas photos can be, I always throw in additional pictures of what happened during the year.  Especially for  family and friends who live abroad and who don't get to see the kids.  II will search for these pictures in advance, and sometimes I'll even mark them as a favorite when I'm taking them.  This way they can be found easily during the Holiday picture printing.
Since these pictures happen on the first weekend of the month, I will quickly send them to print somewhere and pick them up on the following weekend.
Once these pictures are picked up, they all get shoved into the pre-made cards and sent out with plenty of time to get anywhere before the holiday season gets started.
7. Advent Calendar/Holiday Calendar
Get advent calendars for you and the kids!   You don't have to be religious to get these.  They sell them at all stores, and they sell Holiday Countdown Calendars as well.  There are lots of shapes and sizes.   Kids love little ones with chocolates or gifts in them.  As an adult, I prefer a beer Advent Calendar. You can check out how to make your own here!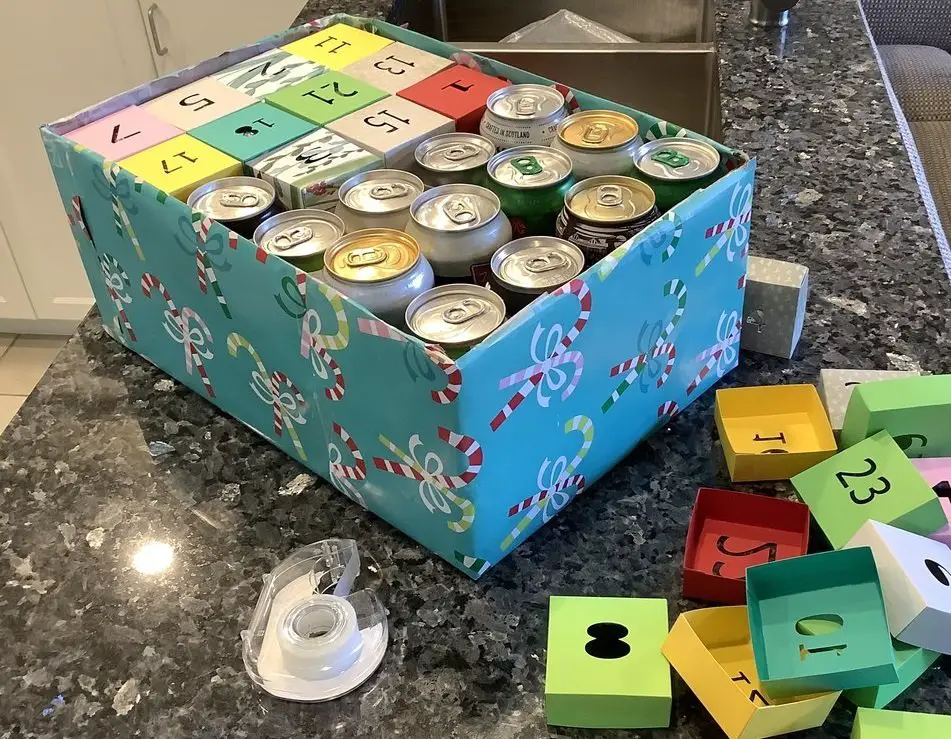 8. Buy Gifts for the Kids
The last thing on your list of things to do to prepare for Christmas is to get Xmas gifts!  We always do minimal presents as the kids get spoiled by the grandparents, so there's never much that we need to get them, but Amazon is great for that! Check out this list of STEM kids gifts that are great for all kids, big and small! Or you can brave the stores.
Now you're ready to win Christmas!  You have the major pieces all in place!  The heavy lifting is done, and now you can sit back and relax… 
Did you find this list of things to prepare for Christmas helpful?  Let me know your thoughts in the comments below!
If you liked this list, be sure to check posts like this one here.
Did you find this list helpful?  Let me know your thoughts in the comments below!
Sign up here to get a free Xmas Gift List!   
One List to the Grandparent 
and 
One Letter to Santa List!