Countdown calendars are always fun to make and more fun open. With the chaos of Christmas almost in full swing, I have to finish up my countdown calendars. This year, we are adding another tree to the countdown calendar collection, a toilet paper roll countdown calendar in the shape of a Christmas tree. So, let's jump in!
As an Amazon Associate, I earn from qualifying purchases.  This post contains affiliate links.    I may receive a commission if you purchase an item from one of my links. This will not change the price you pay.
Supplies need to make a toile paper roll countdown calendar
This is not an exhaustive list, and hopefully can be found lying around the house. Items needed:
20 toilet paper rolls – It may be hard to get 20 empty rolls in a pinch, so you can use paper towel rolls cut up or even cut 10 toilet paper rolls in half.
Cardstock – This is for countdown numbers and the front of the star.
Cardboard – I like to use empty cereal boxes, but any cardboard will do. This is for the body of the star on top of the tree.
Christmas-themed Wrapping Paper – This is for the front face of the calendar. Alternatively, you can use cardstock or tissue paper.
Let's get started making our Toilet Paper Roll Christmas Tree Countdown Calendar
Create the Design for your Toilet Paper Roll Countdown Calendar
Even though this is a simple concept, I want a large compartment for the final day, so I need to sketch up my design. This way, I can ensure I have enough space for everything and a sufficient number of compartments.
So, I made a crude sketch to make sure it all fits.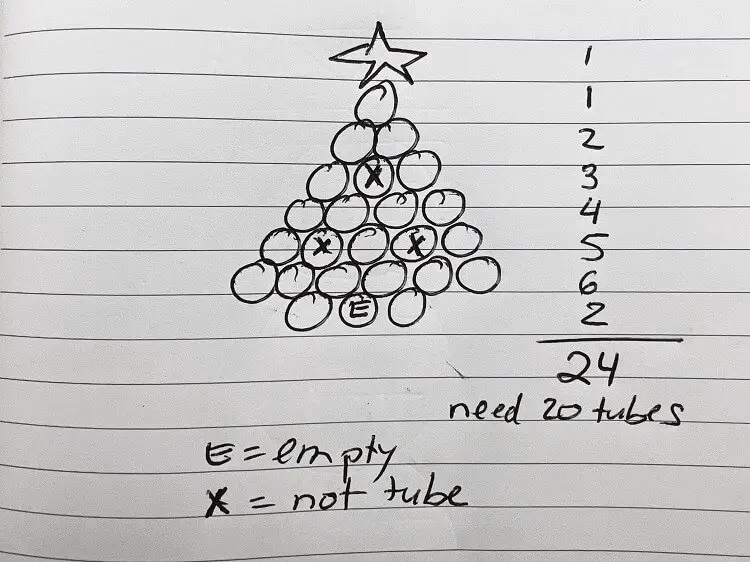 Prepare and Glue the Toilet Paper Rolls together
If you don't have enough toilet paper rolls you need to cut up some paper towel rolls, or cut your toilet paper rolls in half.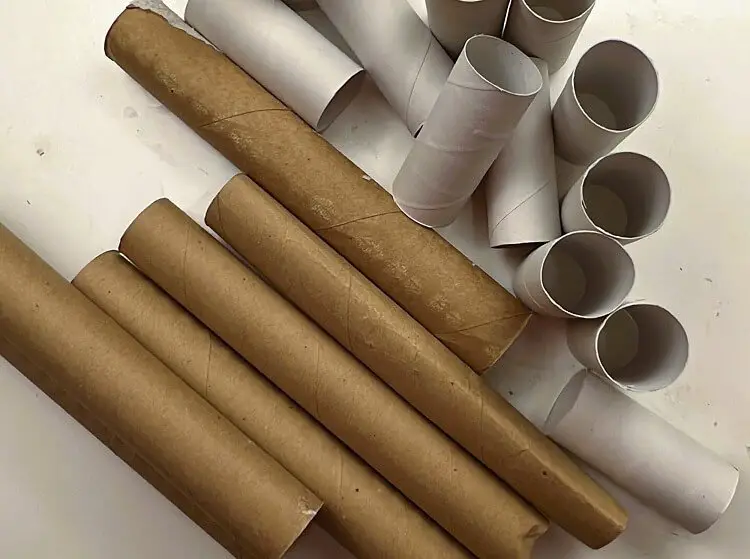 You can even get away with using fewer rolls by leaving blank spots in between rolls.
Keep gluing all the toilet paper rolls until the frame of your countdown calendar is completed. For this gluing activity, I use my glue gun and hot glue.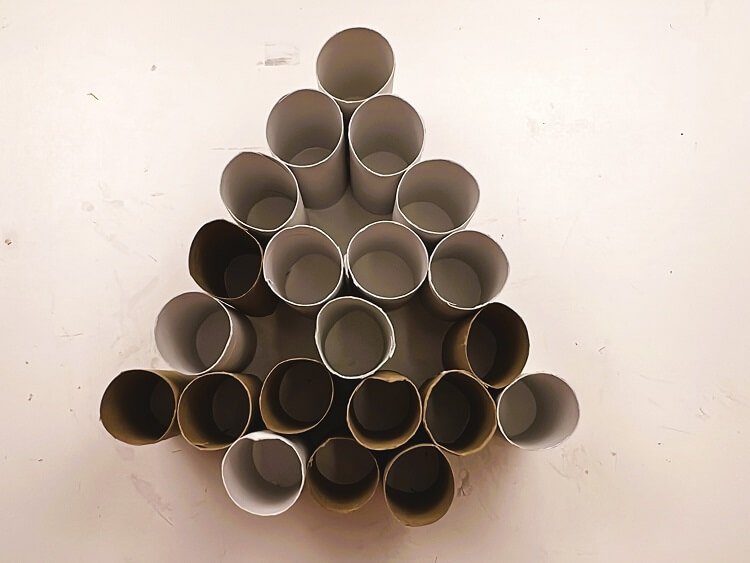 Cut out and glue the Star
I want a fancy start at the top of my calendar that will also serve as a treat compartment. Using my cereal boxes, I cut out a star ( I used my Cricut), and then I cut out 4-inch walls for the star. I picked 4 inches as that is the size of the toiler paper rolls. I could have made it smaller.
For the walls, I used two long strips of cardboard and folded them at the points of the star. I could have cut several smaller pieces and glued those together. Either way works.
Once it is cut, glue the walls onto the star. When the walls are dry enough, the star can be glued onto the top of the tree.
Again, for the star assembly and affixing it onto the tree, I use hot glue and a glue gun.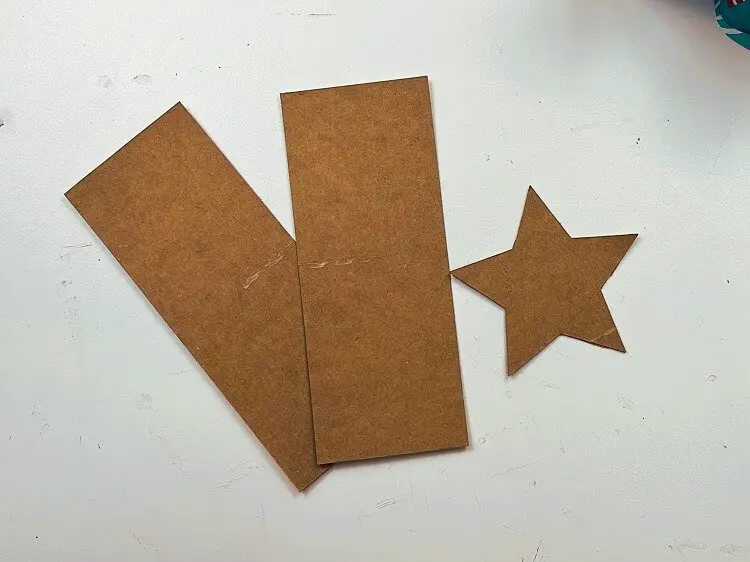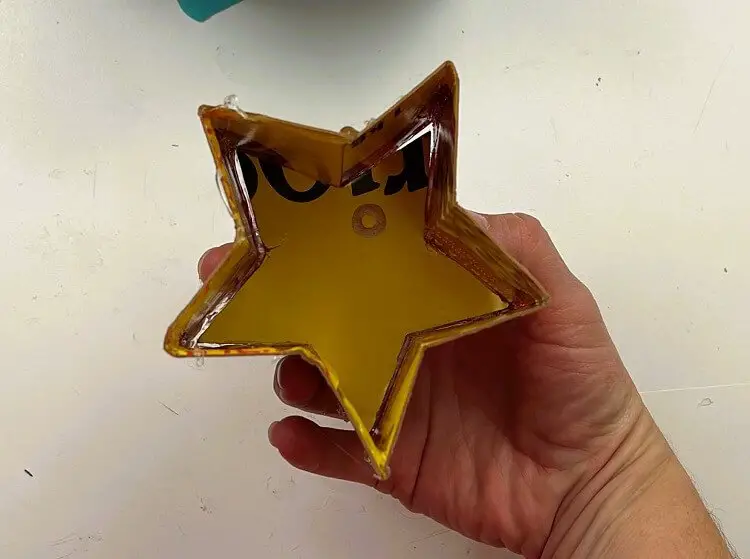 Decorate the Tree
On the front and back faces of the Christmas Tree, I use Christmas-themed wrapping paper. However, you can use green cardstock, green wrapping paper, or even green tissue paper.
Place the tree on top of the wrapping paper and trace the shape. You will need 2 copies of this cutout, as you will need one for the front and one for the back. Remember that the tree will not be 100% symmetrical. You need to trace both the front and back sides of the tree. Do not use the same side for both outlines.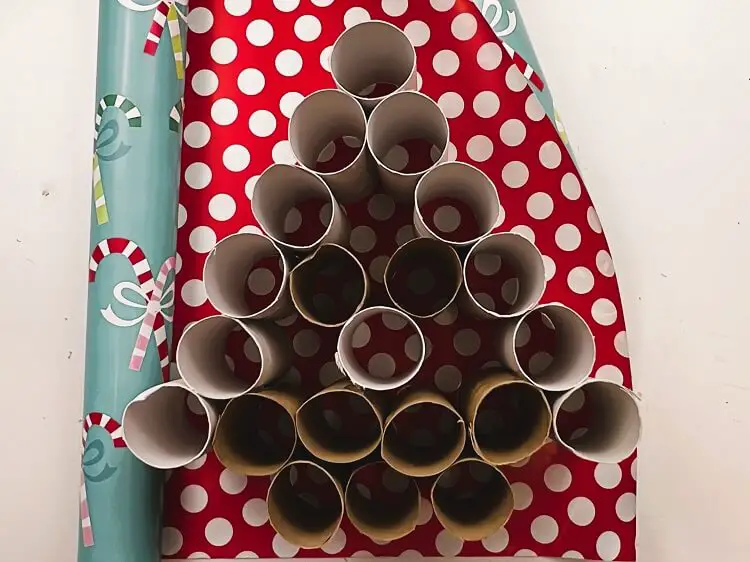 When cutting out the outlines, I like to cut a bit extra around the edges to account for poor tracing skills and toilet paper roll shifting. This extra paper can be glued onto the sides of the toilet paper rolls to help stick it better.
Applying glue around the top edges of all the toilet rolls, place the wrapping paper on top of the toilet paper tree to glue it on. I found that starting at the top of the tree worked best. Then slowly glue and apply the paper down the tree section by section instead of all at once.
Once the backside is glued, you can either cut some notches along the surplus to allow for a nice bend to glue along the edges or trim the extra paper.
Only glue wrapping paper onto one side of the tree.
You also need to cut some wrapping paper for the sides of the tree. Again, using wrapping paper, I cut 4-inch-wide strips of paper. I then glued this around the whole tree, following the curves of the toilet paper rolls.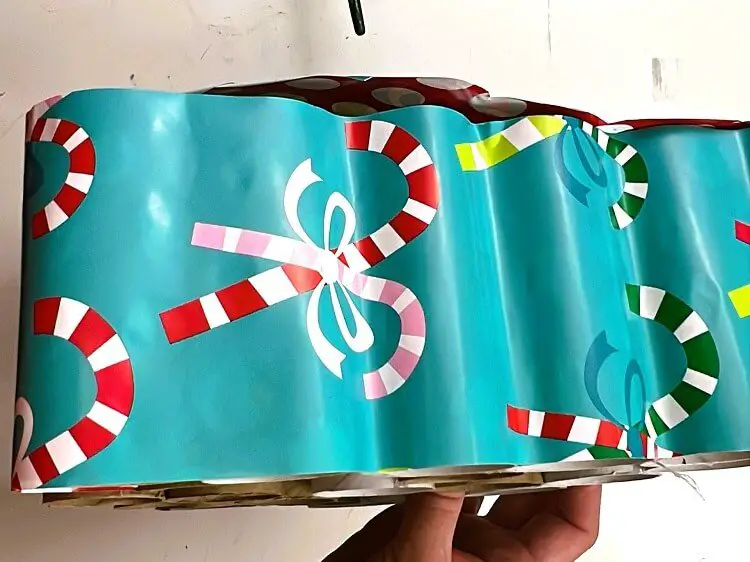 Fill the Christmas Tree Countdown Calendar
Now that our tree is shaped, it is time to fill the compartments with treats, toys or whatever you have chosen.
If you plan to have a special treat on the last day or throughout the month, remember which slots these treats are in so that you can mark them and put the correct number on them.
For this design, I have left three large holes in the middle of the tree, as well as the star on top.
I like to take a picture of the inside when it is filled with treats so that I know what is inside. This comes in handy when making more than one calendar and allows for treats from multiple calendars to line up.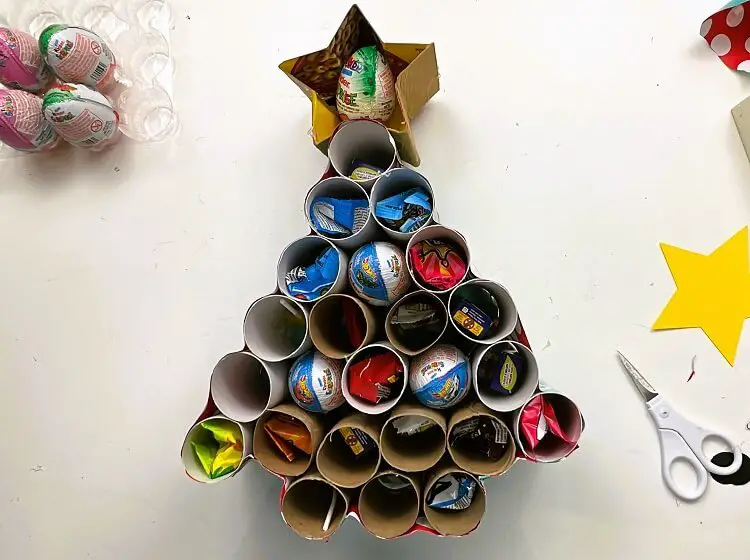 Close the Toilet Paper Roll Countdown Calendar
Once all your treats are in the calendar, you can close up the countdown calendar.
With the same process as above, apply glue around the top edges of all the toilet rolls and place the wrapping paper on top.
Glue on a front face for the star above as well. I cut a piece of cardstock in the same size as I cut the original cardboard star with my Cricut.
If you have surplus material around the edges, you can cut notches around the tree to allow for a nice bend to glue along the edges, or you can trim it.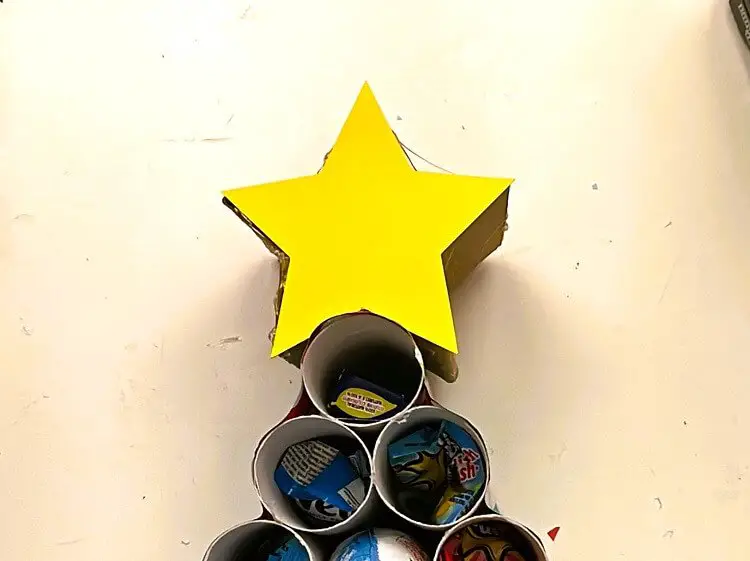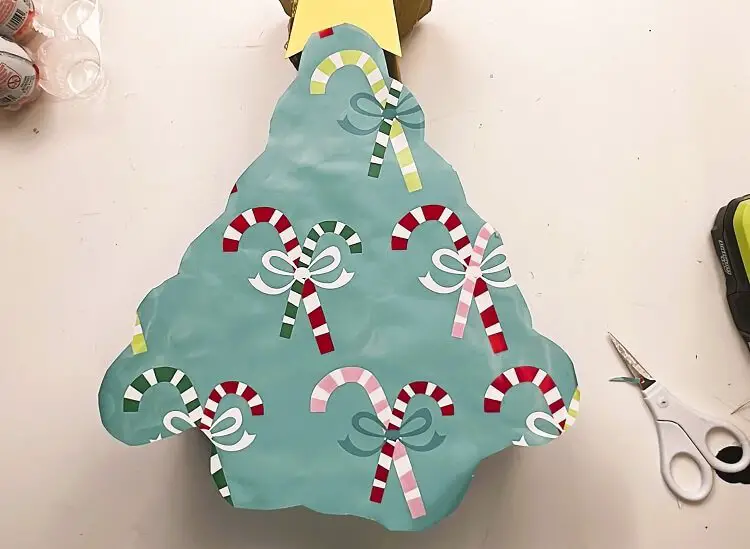 Pre-punch holes / Make small perforations at each compartment – optional
Wrapping paper can be hard to puncture in a small area, so you can pre-punch holes or make small perforations with a needle or paper clip to help the paper rip. But this is optional. I did it as my kids are still little enough that they need some help with this.
Apply the number to the tree
Your toilet paper roll Christmas Tree countdown calendar is almost done! Now all that is left is for you to apply the numbers to the tree. You can write them on with a marker, you can create circle numbers, or whatever you would like. You can also get a copy of the numbers from my resource library that are Christmas-themed numbers.
Install a Hanging Ribbon – optional
I like to hang my countdown calendars on the wall, so I glue ribbon at the back and hook it onto the wall in our house.
And that's it! Your Toilet Paper Roll Countdown Calendar is done!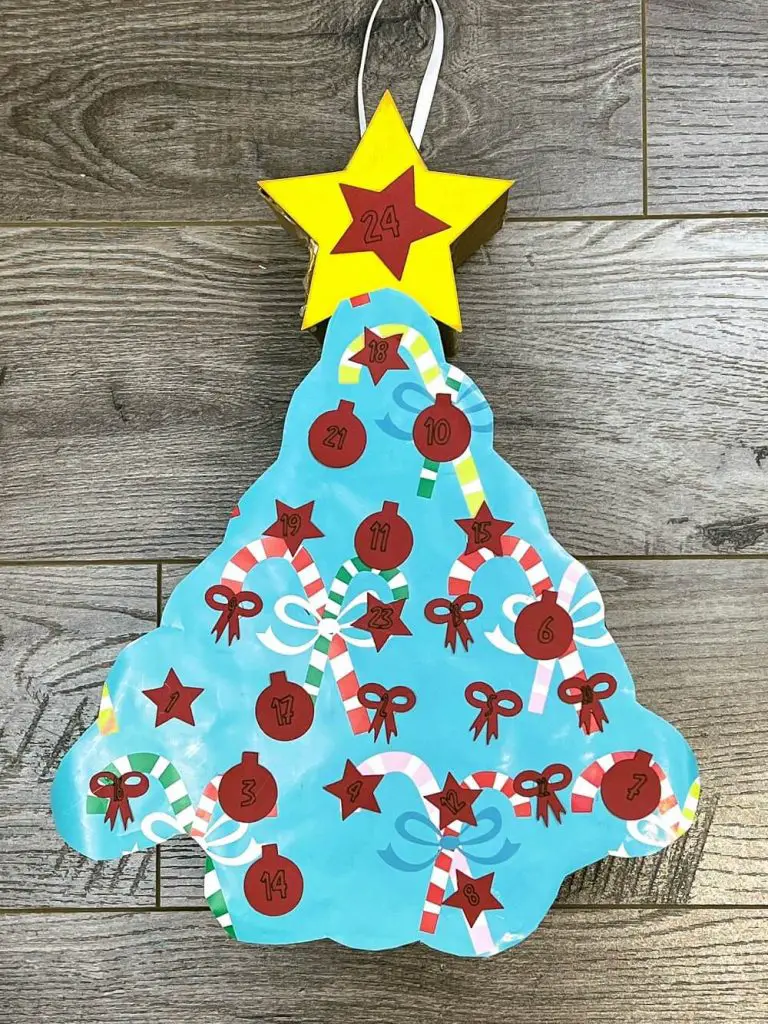 Frequently Asked Questions about Toilet Paper Roll Countdown Calendars
Do you need to have an extra space in the toilet paper roll Christmas tree countdown calendar?
There is no need to have a large spot on the tree as I did. I did this because I like to give a large treat for the last day. You can fill the whole tree with toilet paper rolls, making the shape of a tree until you get to the correct number of compartments.
How many compartments does a Countdown Calendar need?
Most holiday countdown calendars have 25 slots. One for each day of December counting up until December 25th, Christmas day.
My countdown calendars have 24 slots because we don't have time on the 25th to open another gift, so we make the final day of the countdown calendar the 24th of December, allowing the 25th to be just about Christmas. It is, after all, a countdown calendar, and we don't need to count the day.
Best place to get stuffing for a holiday countdown calendar?
I like to use leftover candy from Halloween for holiday countdown calendars. I will purposely go through their candy when it comes home on Halloween night and pull aside 20 or so candies for each kid. But as you may be reading this just before December and not have much or any candy left, I find that the bulk barn is a great place to buy candy in bulk for this event, and then you can call it a bulk bark countdown calendar. Also, the dollar store will have great little gifts that can be added into the mix as well.
What is a countdown calendar? What is the difference Between a Countdown calendar and an advent calendar?
A holiday countdown calendar is a simple way to count the remaining days until Christmas, starting on December 1st.
A holiday countdown calendar is more of a nondenominational way to celebrate the holiday season, whereas an Advent calendar is a religious countdown calendar to Christmas.
Did you enjoy this tutorial?
Did you enjoy this tutorial? Let me know in the comments below! Let me know if you tried it out!
If you enjoy this, make sure to check out my other advent calendars below:
Sign up for my newsletter to get access to my Resource Library and the inside scope on what is coming up!