It's hard to Buy Shirts for Small Kids!
My kids are little.  They are young, but they are also small, tiny, that sort of thing.  So I often find that getting a shirt that first them well is a challenge.  And it's even more challenging when I'm making custom shirts for them.  So, I have learned how to make a kids' shirt smaller so that I can still make custom design but not have to spend a fortune on the shirt itself.
This post contains affiliate links.    I may receive a commission if you purchase an item from one of my links. This will not change the price you pay.
How to Make a Kids Shirt Smaller
For this tutorial, you don't need to have mad sewing skills to get this done.  I'm not a master sewer by any stretch of the imagination, but this works great for my kids' shirts!  Especially Gildan Shirts, which are the ones I use most when making custom designs.
What You Need:
A shirt, preferably one that is too large.
A shirt that fits the way you like
Pins – lots and lots of pins
A sewing machine (preferably) but a needle and matching thread will also work.
Let's Begin!
Flip your shirts!
Before you start, you need to flip both shirts inside out.  All the measurement take place like this.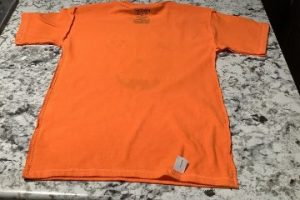 Measure Your Shirts!
Place the larger shirt down on your counter/floor/workspace.  Make sure it is flat and even. There should be no wrinkles.
Place the smaller shirt on top.  Make sure this shirt is inside out also.  
Line up the shirts so that the neck openings and shoulders line up. 
Tip – it's best to wash the new shirt before you work on it, as it may shrink slightly, and the last thing you want is to make the shirt too small.
Also, ironing the shirt before working on it can help but not required.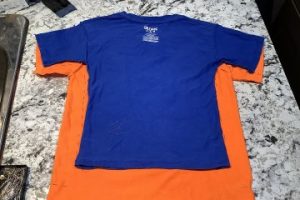 Pin the Large Shirt
With the smaller shirt on top, with either a fabric pen or marker, trace the smaller shirt onto the larger one, followed by pinning along the outline.  Or you can pin the outline directly onto the larger shirt without drawing.  This is how I do it. 
Tip – leave a bit of a gap between the small shirt and the pins.  This is to account for poor sewing skills and additional shrinkage after the next wash.
Depending on the original length of the shirt, you can also pin the bottom to make it shorter.
Sew!
Sew the large shirt!  You can use your sewing machine or a needle and tread. The sewing machine is faster but not required.
Tip – Make sure you are sewing on the outside of the pins, but close to them.  You already gave yourself some leeway by putting the pins a bit away from the smaller shirt, so you don't want to overdo it.
If you are sewing the bottom of the shirt, make sure you cut and fold the bottom to have a finished edge.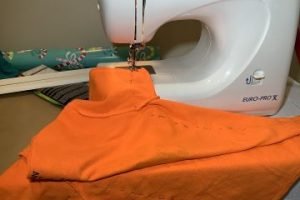 Cut excess
Once both sides are complete, check the stitching to make sure you did a good job.  To do this, flip the shirt and pull along the edges of the sewn material.  
Once you're happy with the stitching, you can cut the surplus material.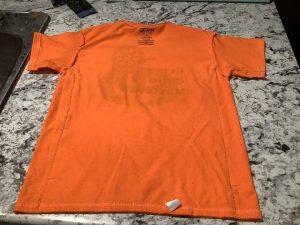 Flip the shirt and …
And That's It! You're Done!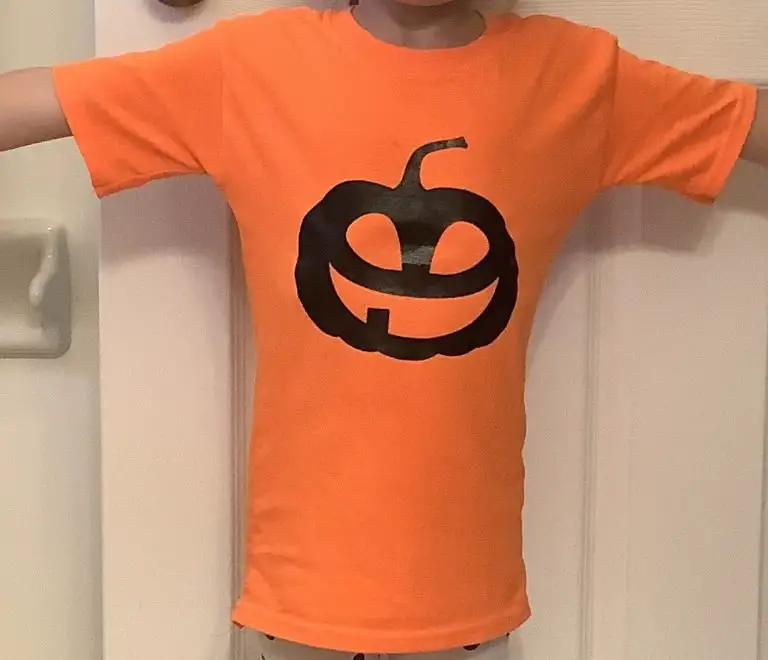 Was this Tutorial Helpful?
Did you find this tutorial on how to make kids shirts smaller helpful?  Let me know your thoughts in the comments below!
If you liked this tutorial, be sure to check out my other sewing tutorials here.
Don't forget to sign up for my newsletters!  You'll get inside tips on upcoming posts and additional behind the scenes details about what's happening on the site!