Halloween is one of the favorite holidays at our house.  We have always gone overboard on decorations (on the scary side), we have loud spooky music playing, and always give out lots of candy.    But the thing I like the best is carving a pumpkin!  I'm not the best at it, but over time I have been getting better at perfecting the craft.  And the one thing I have learned is this super-easy way to carve an awesome looking pumpkin.  And I'm here to share that secret with you!
This site contains affiliate links.
Follow these steps for the easiest and best way to carve a great pumpkin design.  You can make it as simple a design as you want, or something more complicated.  Let's get started!
A Pumpkin – Or you can use a melon or gourd, or turnip?   Pro-Tip – keep your pumpkin inside before working on it. Working on a pumpkin that is room-temperature is much better.
A simple coloring sheet of the design you want off the internet
Pumpkin carving tools – I use a cheap set from the grocery store. I have had them for years. They still work great. You can get this cool one

from Amazon.  But a steak knife works well in a pinch. as well.

Tape
The first thing you need to do is pick the design.  It is crucial to do this first because this will help you with the pumpkin selection later.
Once you have an idea of what you want, google it.  If you're looking for a Halloween Theme you can find black and white pictures or coloring pages.  I suggest you look for something like "pumpkin carving templates" as a starting point.   It will help the creative juices to start flowing.
It is key.  You need to find a picture of what you want to use.
Print it.
If you don't have a printer (like me), but have a Cricut, you can print it with your Cricut (follow this tutorial on how to do that)
Go out and pick a pumpkin!  You can get them anywhere.  Go to a farm or the grocery store or anywhere you want.  I find that the grocery stores have the best prices, but the farms are local… so pick your poison… 
But pick out the best pumpkin!
You need the pumpkin to be big enough for the design that you printed off to fit on the side of a pumpkin.  
Now it's time to get dirty!  Cut the peduncle out (stem).  Cut it out in a circle or a jagged shape.  Make sure you angle the knife on an angle so that there is some flesh left underneath.  This way the top won't fall back into the pumpkin.
Pull all the guts out of the pumpkin.  If your pumpkin has been outside in the cold, this will be cold on your hands so be brave!
If you like pumpkin seeds, you can salvage those and bake them, but I'm not a fan of pumpkin seeds so they just get tossed at my house.
Now, for the Precision Work
Take the picture that you printed off and tape it onto the pumpkin.  
Hopefully, your pumpkin has been inside and is warm because if not the tape won't stick well once condensation starts to form on the pumpkin.
Tape it in several spots so that is secured to the pumpkin.
Take your precision tools and start cutting.  Or, if you're like I was years ago, a steak knife works well.
I prefer to use the small cutting knife as it has the best control.
Using your tool of choice, start cutting the pumpkin through the picture.  
Keep cutting until finished.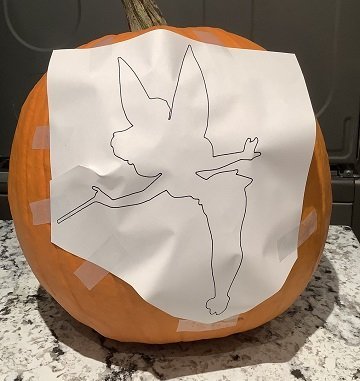 Do a final cleaning to get rid of any guts and make sure the design is visible.
Add in a candle (or a battery-operated one) and that's it!
And That's It! You're Done!
Was this Tutorial Helpful?
Did you find this tutorial helpful?  Let me know your thoughts in the comments below!
If you liked this tutorial, be sure to check out my other tutorials here
Don't forget to sign up for my newsletters!  You'll get inside tips on upcoming posts and additional behind the scenes details about what's happening on the site!