With Halloween just around the corner, things here have been in full swing Halloween prep. One costume we are working on is a Maleficent costume for my daughter. And no costume is complete with a DIY Maleficent Staff.
This post contains affiliate links.    I may receive a commission if you purchase an item from one of my links. This will not change the price you pay.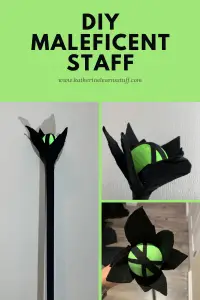 Tools Needed to Make Maleficent Scepter
Old Broom Stick, an old swifter handle, any old handle you do not need.
Black Tape – Duct Tape, Hockey Tape, Electrical Tape, any kind will work. 1-Roll should be sufficient.
Styrofoam ball – I used a 3″ one.
Acrylic Paint – We used green, but any color works also. But Neon Acrylic Paint and Glow-In-The-Dark Acrylic Paint are also fun for this project.
Optional plastic binder section dividers – I purchased mine at the dollar store.
For Maleficent staff, I used bits and pieces lying around the house. I did not need to go buy extra parts. However, if you don't have these items lying around, you can go to your local dollar store or local craft store. You should be able to buy all the pieces needed for a Maleficent Staff for less than $10.
Creating the Dragons Eye
As this costume is for my young daughter, I opted to use a Styrofoam ball for the Dragon's Eye.
If you're uncertain what the Dragon's Eye is, it is the ball at the top of the staff.
Simply paint the Styrofoam ball. We went with green as it looks green in the animated Disney movie from 1959.
Let the paint dry, and apply a second or third coat if required. We had to do two coats.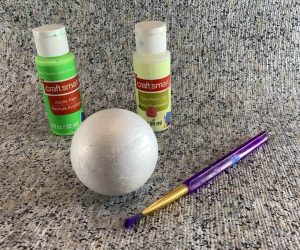 Coating the Staff
We used tape to make the staff black. Alternately, we could have painted it or even purchased a black broom handle. We were looking to make an inexpensive Maleficent Staff, and we already had an old broomstick in the garage.
Apply the tape around the broomstick. This is not tricky, but make sure not to leave any gaps, as when you are applying tape on a downward spiral, it may start to spread apart.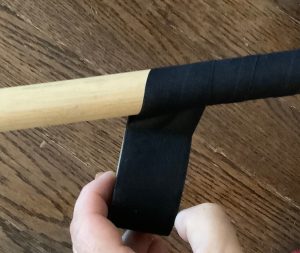 Combine the Dragon's Eye and the Staff Together
As this whole project uses tape, I also used tape to attach the painted Styrofoam ball to the broomstick. I cut one wide piece of tape into 3 sections. I applied the thickest of the 3 down the middle of the ball. Making sure to have enough to go around the ball and still have about 2-3″ of tape to attach to the broomstick. The second and third pieces of tape I applied symmetrically with each other but allowing for as much green to be visible on 3 sides. Again, these 2 pieces of tape are long enough to affix to the broomstick.
Make sure the tape goes all the way around the Styrofoam ball. Don't leave a gap where the tape should go to just affix to the broomstick.
Once the ball is secure, apply tape over the bottom section that attaches to the broomstick.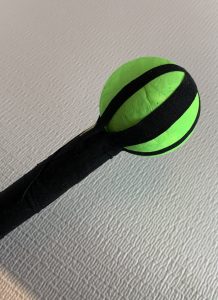 Decorations around the Dragon Eye
If you look at the Styrofoam ball attached to the broom, it looks incomplete. So we decided to add some decorative accents around the Dragon Eye.
Using simple plastic binder dividers, cut them into tear-drop shapes or to resemble a leaf. I am using plastic because this will hold its shape, and then I have a template to follow to make the shape I want. You can just make this shape with the tape, but I wasn't sure about that.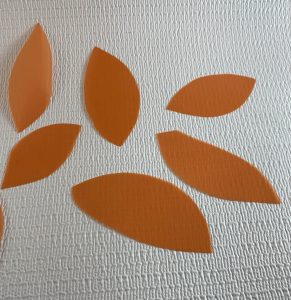 Apply tape to the plastic pieces. If there are edges that have weirdly Apply tape to the plastic pieces. The edges with weirdly folded tape can be cut off, or you can just leave them, as this is supposed to be a scary DIY witch staff. I just left mine in all different shapes and sizes.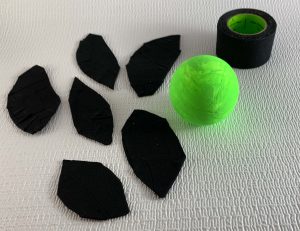 These accents now need to be taped onto the staff. I started taping about 1/3 of the way down the leaf on an angle so that it would reach the bottom of the leaf and move toward the broomstick. Using enough tape to wrap around the broomstick once. I then repeated this step for each leaf. Doing it in this method helps to keep the leaves close to the ball.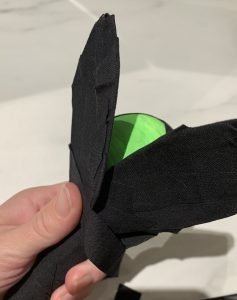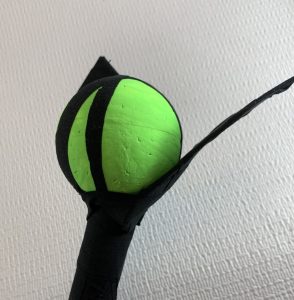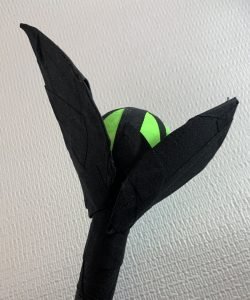 Once all of the leaves are affixed, you can add one more thin layer of tape around the leaves, just slightly higher to pull them in closer. This is not required.
Optional – Make a Glow in the Dark Scepter!
So, one final step that we did was we used glow-in-the-dark paint and added it to the Dragon's eye to make it glow. This isn't required but fun for the kids on Halloween night.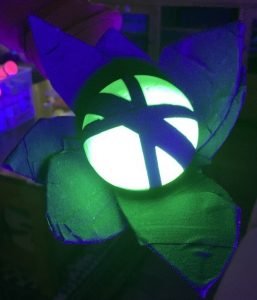 That's it! Your Maleficent Scepter is done!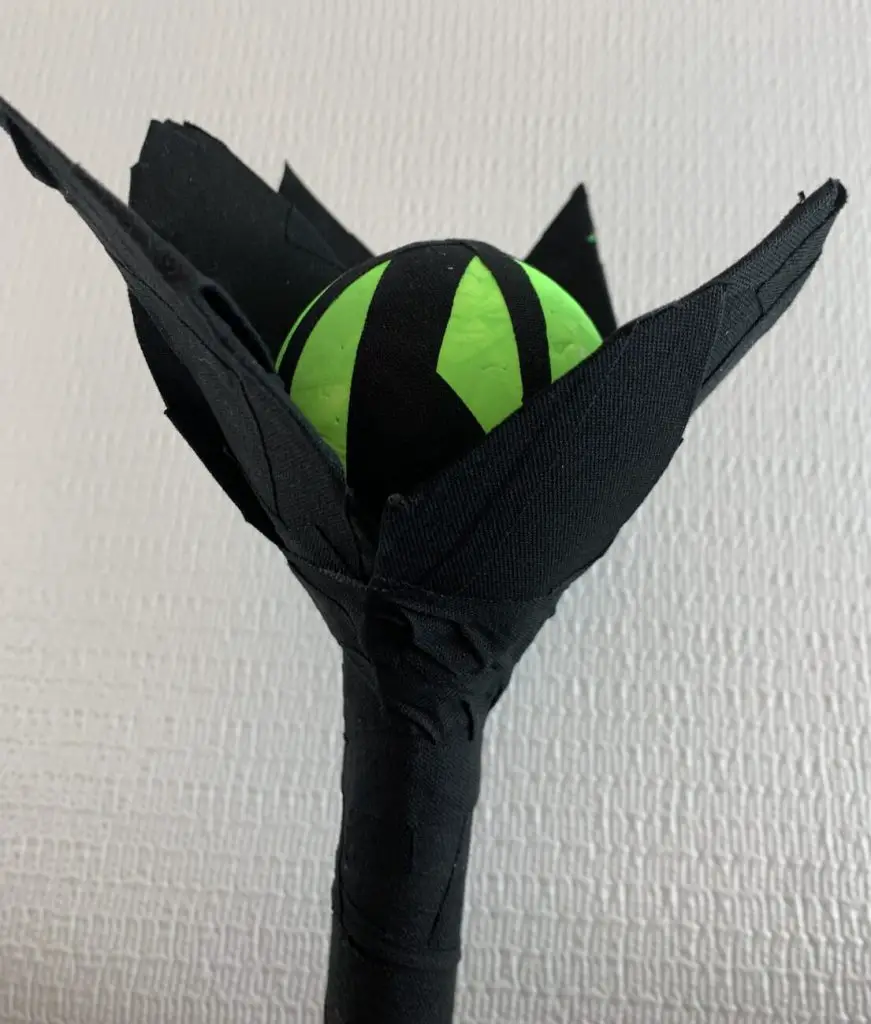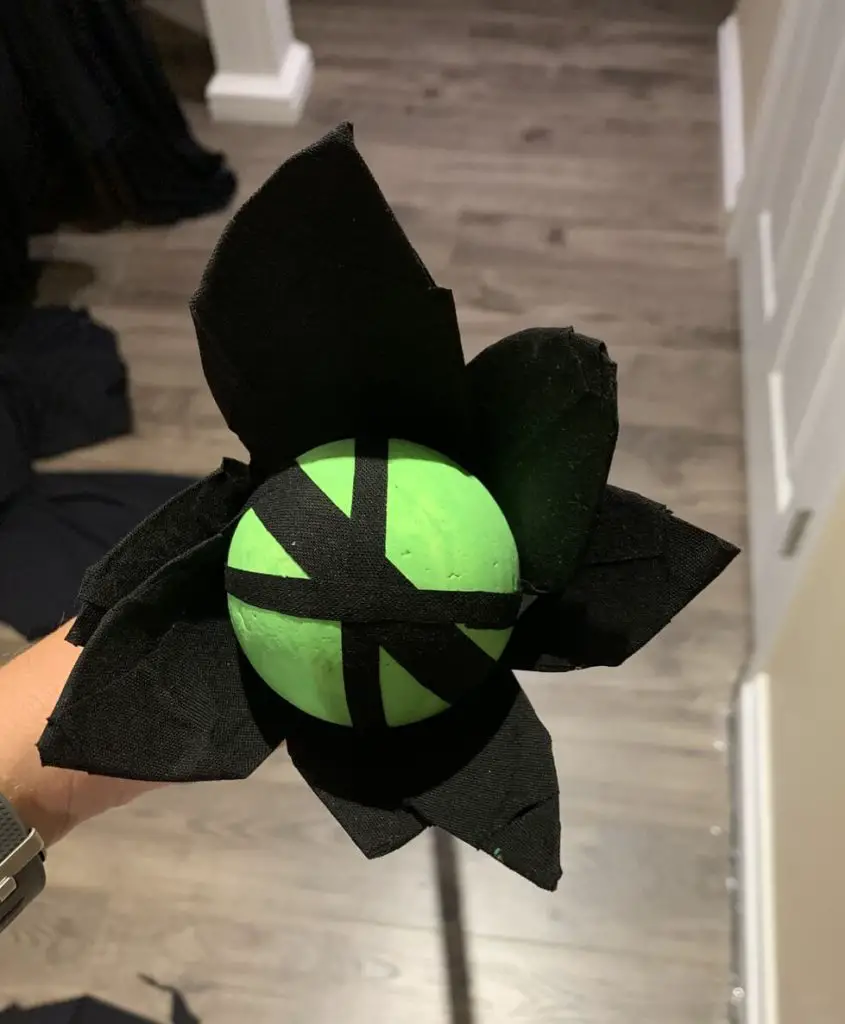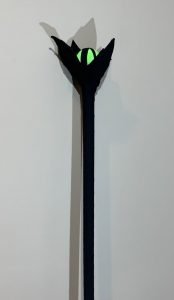 Tips and Tricks for Making A Witches Staff
This staff that we are using for Maleficent can be used for any witch or wizard. It does not only have to be for Maleficent.
This whole process takes about 1 hour to make, so if you are in a bind at the end of the month, it's a quick thing to make.
This inexpensive DIY Maleficent Staff didn't cost us anything. We already had all of the parts at home. Now, I am a bit crafty, so I may have more random pieces around the house than your average person, but the Dragons' eye does not have to be a Styrofoam ball. It can be made from a rock from the garden, a tennis ball, or a crumpled-up piece of paper. You just need to think outside the box.
Did you find this Tutorial Helpful?
Did you find this DIY Maleficent Staff tutorial helpful? Let me know in the comments below! And let me know if you tried it out!
If you liked this tutorial, check out my other Halloween Posts:
The Easiest Way to Carve a Pumpkin
Seven Unique Way to Celebrate Halloween
Don't forget to sign up for my newsletters!  You'll get inside tips on upcoming posts and additional behind the scenes details about what's happening on the site!