Every year, Halloween comes and goes, and every year, I have a pile of cheap face paint from years before that I desperately want to use, but I have not been able to make it work.   You know what I'm talking about.  That cheap face paint that they sell at all of the stores before Halloween.  Not the professional expensive stuff, but the ugly color multi-pack that's way more expensive than it should be, but still not too expensive to discourage you from buying it… Well, I've had it up to here! (picture me indicating to my eyebrows). I have had enough of this cheap stuff just growing and never being used…. So this year, I took it upon myself to learn how to apply this cheap face paint properly so that it looks good.  Now, please keep in mind, I'm not very talented at the actual design part of face painting, so the results below may not be what you're hoping for.  But the method is sound!  I swear!
Cheap face Paint
Paint Brushes
The first thing you need to know about this face paint is that it's cheap, so the results you get won't be like what you see when kids get their faces painted at the fair or birthday parties.  This is not that kind of paint.  So you will get results equivalent to the product.
This picture is the stuff I'm talking about.  
Some packages come with sponges and little make-brushes.  These are basically useless.  Especially for the multi-colored pack.  They don't hold the paint, and what little they do hold, they don't release it onto your skin.  
The cheap sponge and the make-up brush, and cheap paintbrushes don't work.  Don't waste your money on them.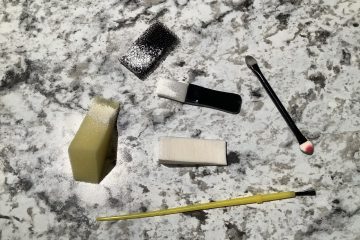 But, just in case you want proof and to give you an idea of what the paint looks like when you use some of these sponges, I did a comparison on my hand using the white cover paint.  
The super-cheap paintbrush didn't work at all, and neither did the make-up brush.   Also, the black sponge that's like an SOS pad didn't work, but it did take off a layer of my skin…  
The other 3 sponges produced moderate results, but if you're going for a quick light covering, they  will work.  The black handled/sponge brush seemed to apply the most paint but it's not at all gentle on your skin. 
The next best for application with these cheap sponges is the yellow sponge.
But again, if you have better options, I would stay away from all of these.
I found a half-decent set of paintbrushes (from the local dollar store) works well.  You want the brushes to have some rigidity and shape to them, like the ones in my picture.  If they have metal support at the bottom of the bristles, this will help the brush maintain its shape and help your final design.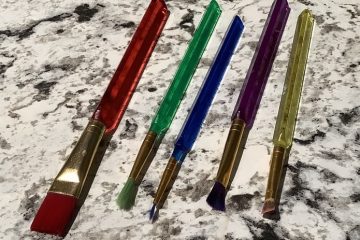 Using the Paint with Brushes
For the best result, I found that spinning the paintbrush around the paint several times (quickly) to coat the brush works best.  Make sure the brush is dry and clean.  
These paints aren't very water-soluble, so they won't work with a wet brush, or at least not as well (aka much worse)
As this paint is cheap, it's not that easy to apply, and not all colors are created equal.  With the set that I purchased, I found that colors like green and blue didn't have as much pop, but purple and red did.  So you may need to apply more to the brush. 
Applying multiple colors on top of each other doesn't work very well at all.  The colors will blend in right away. Applying colors next to each other allows for better color visibility, but you need some skill (which I'm currently lacking).
I found it's best to make a simple design that does not require color overlap.  That way the colors are visible and don't get brushed off.
And having kids stay still while you're working on them is helpful….
Good luck!
And That's It! You're Done!
The things main things I learned  from this activity:
Face painting is much harder than it looks.  To make a half-decent design on a face, you need practice.
For the amount of money I spent on clearance face paint and sponges over the years, I would prefer to spend a bit more and buy some good face paint.
The paint only stays on faces for about 1-2 hours and rubs off easily but is hard to wash off…?
This stuff is greasy based so it's a pain to get off your skin when you want it off – make sure you wash it off before bed because your kids might need new sheets. 
Don't forget to sign up for my newsletters!  You'll get inside tips on upcoming posts and additional behind the scenes details about what's happening on the site!
Was this Tutorial Helpful?
Did you find this tutorial helpful?  Let me know your thoughts in the comments below!
If you liked this tutorial, be sure to check out my other tutorials here