Cheap Face Paint…We always Seem to Buy it…
Every year, Halloween comes and goes, and every year, I have a pile of cheap Halloween face paint from years before that I desperately want to use, but I have not been able to make it work. You know what I'm talking about. That face paint that they sell at all of the stores before Halloween, like Walmart and Value Village. Not the expensive professional face paint. The ugly color multi-pack that's way more expensive than it should be, but still not so expensive as to discourage you from buying it. I have had enough of this cheap stuff just growing and never being used. So, I took it upon myself to learn how to apply Halloween face paint properly. Or at least so that it looks good. Now, please keep in mind, I'm not very talented at the actual painting designs part of face painting. But the method is sound!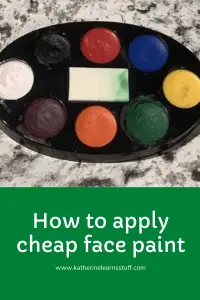 What You Need to Successfully apply Cheap face Paint:
Cheap face Paint – You can purchase this at any local store before Halloween.
Paint Brushes – Not the super cheap ones. But I get into more detail below.
Let's Begin Learning To Paint Faces with Cheap Halloween Paint
The Paint
The first thing you need to know about this face paint is that it's cheap. As such, you will not get the same results as what you see at festivals and birthday parties. This is not that kind of paint. You can still get decent results with this cheap face paint. It just takes time, practice, and the right tools.
This picture is the stuff I'm talking about.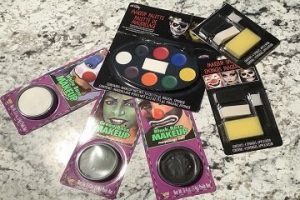 Face Paint Applicators as part of Halloween Packages
Often, when you buy these paints, they come with application tools, like sponges, little make-brushes, wire brush/sponge things. These are all basically useless. And the multi-pack tool kits are no better. So, the full breakdown:
The make-up applicator that comes in the multi-pack: This is similar to a standard make-up applicator wand/sponge, but for some reason, it does not hold the paint. And even though the color will change on the applicator to the paint color, it does not come off the applicator onto your skin. 
The thick white sponge – I thought this had potential, but when applying paint to my skin, it just smeared around a small, almost invisible layer of paint. Applying a second layer of paint on top was impossible, as the sponge would just wipe it off. But if you are looking for a quick thin application of face paint, it can work in a pinch.
Thin yellow sponge – This almost resembling a dishwashing sponge. Although this sponge started to fall apart quickly, it applied the second most paint per application, and it was not at all painful.
Thick black-handled sponge/brush – This applicator applied the most paint, but it is not gentle on your skin. It is very painful. I can see this causing tears in children if trying to use it on their faces.
Cheap paintbrushes – These do not work at all. The bristles do not hold the paint, and consequently, nothing came off either.
Black Sponge – looks almost like steel wool or an SOS pad. This did not work at all. It did, however, do a great job exfoliating about 3 layers of skin.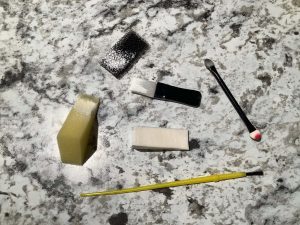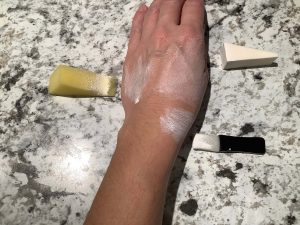 If you have better options, I recommend staying away from all of these and do not waste your money.  
If these are your only choice, I recommend the yellow sponge for large paint applications, such as making your entire face white or green.
As for precision lines and designs, I found none of these applicators capable of doing the job.
General Face Paint Tools That Work
Paint Brushes
Paint brushed come in many shapes and sizes. And they can be purchased in all sorts of places. But for proper application of face paint and the ability to create a good design, a decent set of paintbrushes is required.
You can buy a decent set of paintbrushes at the dollar store if you look. But what you are looking for in a decent paintbrush is as follows:
Bristles have rigidity.
Bristles have a shape – ie: a thick square, a pointed edge, etc.
A metal casing to hold the bristles in place.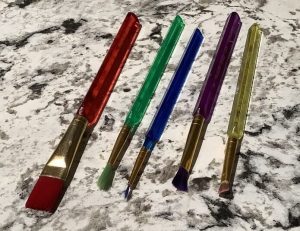 How to Use Paint Brushes to apply face Paint
Using a good set of paintbrushes, quickly spin the brush around the paint several times to get a thick coat of paint.
Make sure the brush is dry and clean. These paints aren't very water-soluble, so they won't work well with a wet brush.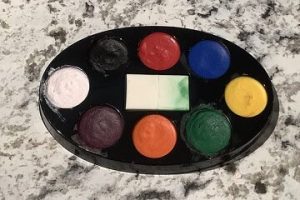 Tips for Applying Face Paint
Once you have your brush ready, start painting! Some things to keep in mind when you apply Halloween face paint:
As this is cheap paint, it is harder to apply. So you will need to apply lots of paint to your brush.
Not all colors all equal – Green and Blue do not pop as much, while red and purple do.
Applying multi-colors on top of each other does not work well.
Try using a design with colors beside each other and not on top for best results. This will allow the colors to be more vibrant and not brush off as quickly.
The more you practice, the better you will become.
If you are applying paint to your kids, try to have them hold still.
And That's It! You're Done! Face Paint Applied!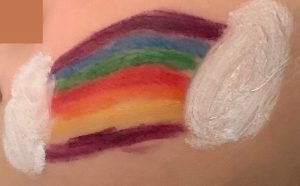 What Did I Learn While Trying to Apply cheap face paint?
I have done a lot of face painting with my kids, and I am sure there will be more to come, but I have some takeaways from it, and I thought this would be a good time to share those with you.
Face painting is much harder than it looks. To make a half-decent design on a face, you need practice. If at all possible, practice a few times before Halloween.
For the amount of money I spent on clearance face paint and sponges over the years, I would prefer to spend a bit more and buy some good face paint.
The paint only stays on faces for about 1-2 hours and easily rubs off but is somehow hard to wash off…?
This stuff is not water-based, so it's a pain to get off your skin when you want it off – make sure you wash it off before bed because your kids might need new sheets. It does not easily come out of material.
Was this Tutorial Helpful?
Did you find this tutorial on how to apply Halloween face paint helpful?  Let me know your thoughts in the comments below!
If you liked this tutorial, be sure to check out my other tutorials here.
You can also check out my other Halloween posts here:
Don't forget to sign up for my newsletters!  You'll get inside tips on upcoming posts and additional behind the scenes details about what's happening on the site!