There is never a shortage of energy with kids, so having some fun activities to keep them busy and occupied can always help! Here is a quick tutorial on how to make a simple canvas painting with vinyl for kids.
This post contains affiliate links.    I may receive a commission if you purchase an item from one of my links. This will not change the price you pay.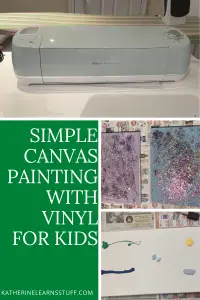 Canvas Painting with Vinyl Finishes
There are lots of ways to do canvas paint and vinyl crafts with kids.  This is one way that my kids and I did.  They really enjoyed it.  We also did another one, that you can find here, that was equally enjoyable and messy.
What You Need:
canvas – any size will work, but don't go too big.   
Let's Begin!
Messy Painting First
For this painting activity, we directly squirted some paint onto the canvas.  No point wasting a paper plate or an egg carton to hold the paint.
Once you have selected several colors, make a small blob of it on the canvas.  We did 4 different colors.  And the kids just want to town moving the paint around.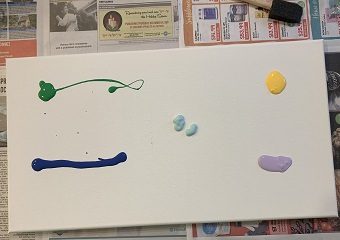 We used a bit too much paint, so it all just combined into one color.  If I had helped control the paint portions, it would have been a better distribution of paint, as seen here.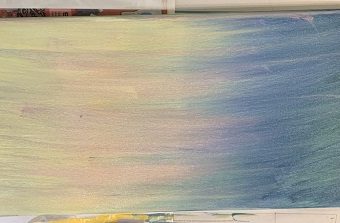 Optional Glitter (But Not Really Recommended)
We are currently in a glitter phase at our house, so everything needs glitter.  So when the painting was finished, it was necessary to sprinkle several pounds of glitter on the paint.  
This is very messy as glitter gets everywhere.  
But right now it's required, so we went ahead and did it.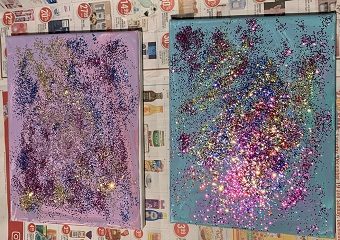 Remove Excess Glitter
Once the paint is dry and all of the glitter application is done, in a location where there is no wind or air vents, lift the canvas up and let all of the glitter fall off the canvas.  Most of it will fall off. Some will stay.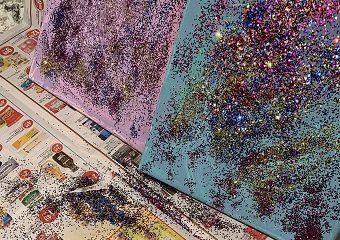 Cut Your Decal
I'm not very skilled when it comes to designing my own pictures, so I find some on the internet to use.  
If you have a Cricut and want to make a vinyl one as I did, follow this tutorial, just stop before I change the setting to draw, and then proceed to cut.  Once it's cut you will need to weed the design.  
You can also buy decals online or at a store to use as well.
My daughter is really into reindeer right now, so this is what we picked.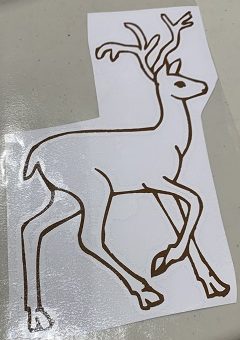 Apply The Decal
If it's a simple design, you can just peel it, but I like to use transfer paper.  This gives me the ability to make sure it's in the perfect spot before I place it on the canvas.
Once you have the perfect spot, adhere the decal to the canvas.  You will need to burnish it onto the canvas.  I find that when I'm just using regular canvas (as opposed to reverse canvas), I burnish it on the backside to help it stick to the canvas.  Otherwise, there is nothing behind it to apply the needed pressure.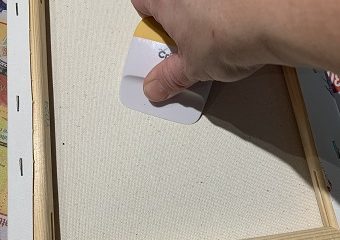 And That's It! You're Done!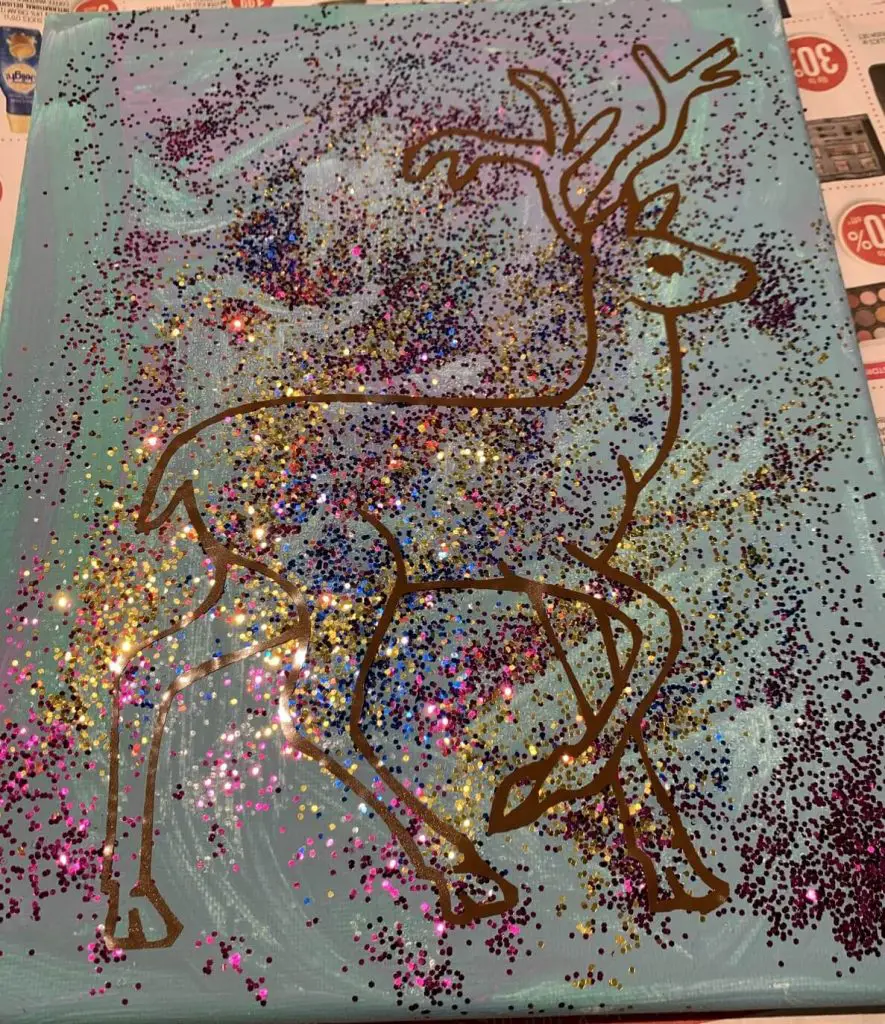 Notes to remember for when making a simple canvas painting with vinyl for kids:
Remember to size the canvas according to your kids' age. A 5-6-year-old can work on a 10×8, to a 12×10 canvas comfortably. Anything bigger will be a challenge to finish. For example, a 14×10 canvas is too big for a 5-6-year-old. Unless you want this craft to go one for 2-3 days… which you probably don't.
This works well in the spring/summer months if you can set up the painting station outside so that you have less mess to clean up in the house.
If you use glitter, I recommend throwing the excess glitter away.  No one will know.  And I have yet to see the day where my kids use glitter that is combined with the glitter of another color.  I would love for them to use this extra glitter as I now have a mason jar full of multi-colored glitter.
If you use glitter, you may find it hard for any vinyl decal to stick really well.  If this is the case, you can always use mod podge and apply a layer on top to keep the decal on the canvas.  This will add another possible day to complete the craft.
Was This Tutorial Helpful?
Did you find this tutorial helpful?  Let me know your thoughts in the comments below!
If you liked this simple canvas painting with vinyl for kids tutorial? If so, be sure to check out my other tutorials here.
Don't forget to sign up for my newsletters!  You'll get inside tips on upcoming posts and additional behind the scenes details about what's happening on the site!