Halloween costume creation is in full swing over here, as it is every year. This year, we are making some Top Gun Maverick costumes. And what better costume for a wheelchair to match this theme than a Top Gun fighter jet wheelchair costume.
The Back Story – Aicardi Syndrome and Being Wheelchair bound
I have a friend down the street, and she has a daughter, the sweetest thing. Sadly, she has a disease called Aicardi Syndrome. Aicardi Syndrome is a rare genetic condition affecting only 4,000 people worldwide, most of whom are females. While the genetic marker has yet to be identified, it is diagnosed by a triad of symptoms, including:
Malformation of the brain, most commonly the absence of partial development of the corpus callosum which connects the two hemispheres of the brain.
Chorioretinal lacunae, small holes in the retina (back part of the eye).
Seizures, typically begin as infantile spasms and progress into epilepsy that is often extremely difficult to manage.
Those living with Aicardi Syndrome typically have severe global developmental delays and intellectual disabilities. To learn more about Aicardi Syndrome, visit: http://aicardisyndromefoundation.org/
How to design a Fighter Jet Wheelchair Costume
I have a little experience helping create and design wheelchair Halloween costumes, so working with the design has become a bit easier.
The first thing we decided upon was a theme, and this year we wanted to go as a group of fighter pilots from the new Top Gun Maverick Movie.
I quickly pulled out my Vectornator program on my iPad and pulled in an image of the wheelchair. I did a quick google search of what a fighter jet looks like from the side profile and sketched it over the wheelchair to see how it works.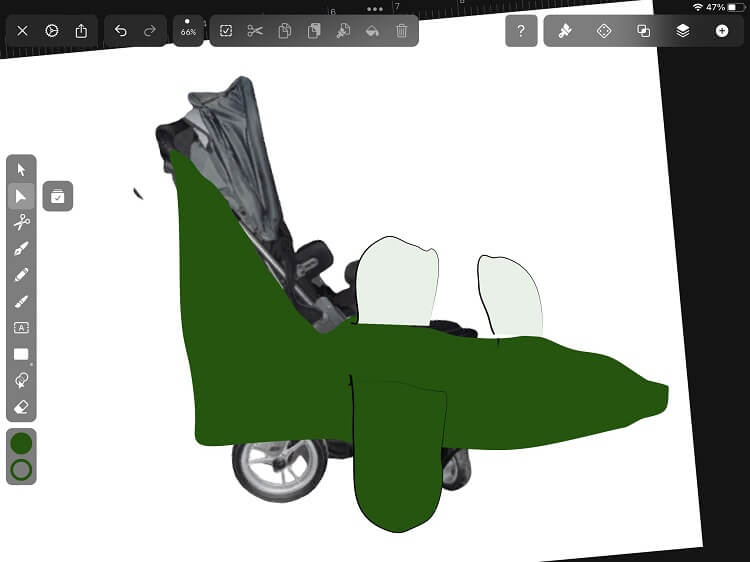 Once we had general approval on the design, it was time to get the supplies ready!
As an Amazon Associate, I earn from qualifying purchases.  This post contains affiliate links.    I may receive a commission if you purchase an item from one of my links. This will not change the price you pay.
Supplies needed to make a Jet Wheelchair Costume
Since our design was planned, we were quickly able to figure out what we needed:
A very large cardboard box – I picked one up from the local mom's Facebook page a few months ago, and it has just been sitting and waiting, as we knew this would be needed.
Gray, white and black paint – I use acrylic craft paint, but any paint would work.
Zip Ties – these are needed to help attach the final design to the wheelchair.
Fighter Jet Pilot Costume – And of course, you need a matching costume.
Sharp Box Cutter
Duct Tape
Optional – Vinyl decals – either custom-made or purchased.
Make the Fighter Jet Wheelchair Costume
With all the pieces gathered and the design done, it was time to draw out the fighter jet on the large cardboard.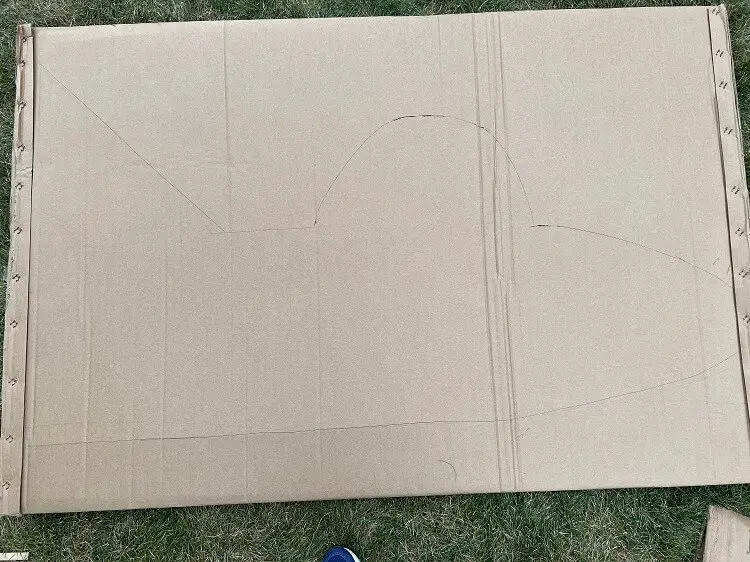 Once happy with the design, cut out, trace and repeat to make 2 copies of the jet. One for each side of the wheelchair.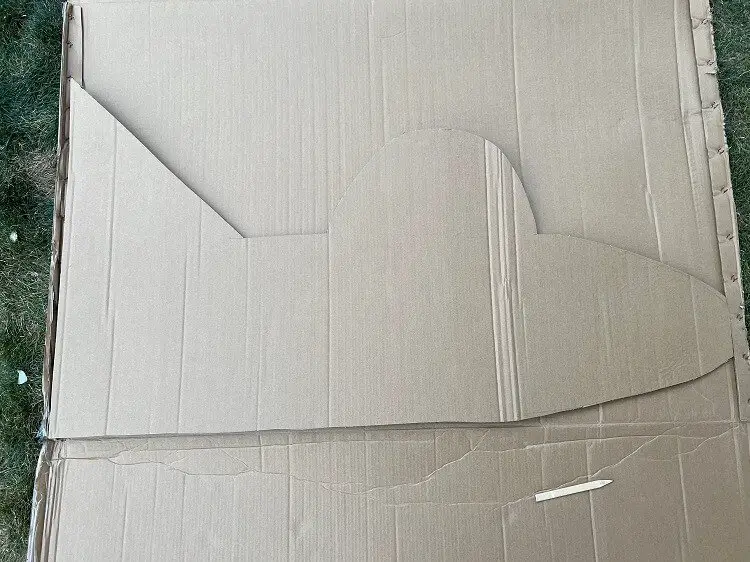 Additionally, I wanted to make the jet a bit more 3D this year, so we added an extra wing that will extend when talking down the street.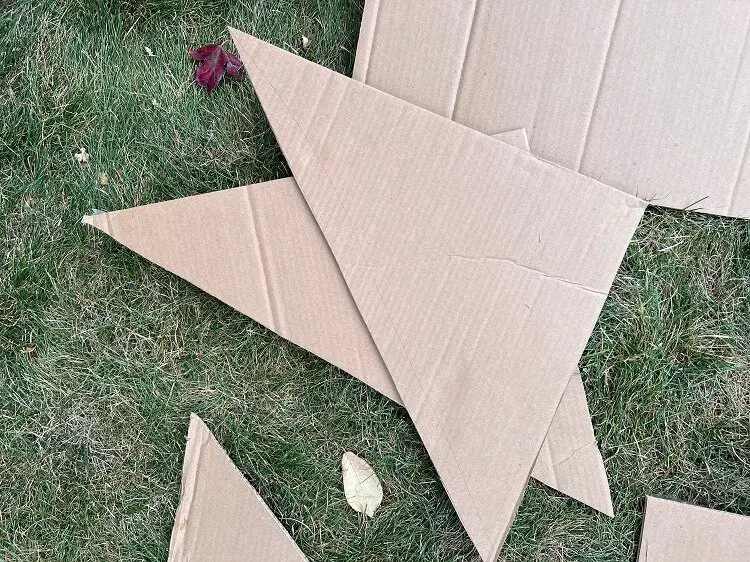 Assemble the Fighter Jet
It's important to remember that you want the jet to be a mirror of itself, so placing the two jet pieces together, we can now duct tape on the wing on one side. Flipping both pieces over so they are facing the same direction – we can line up the second wing and duct tape it into position.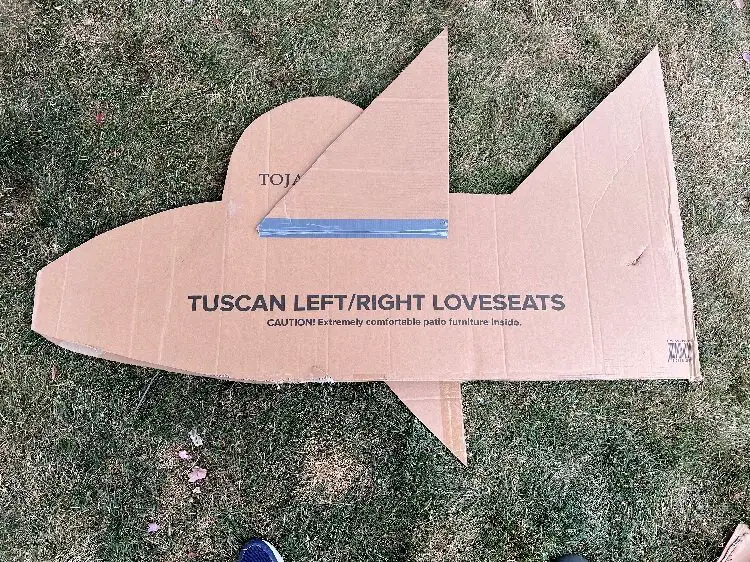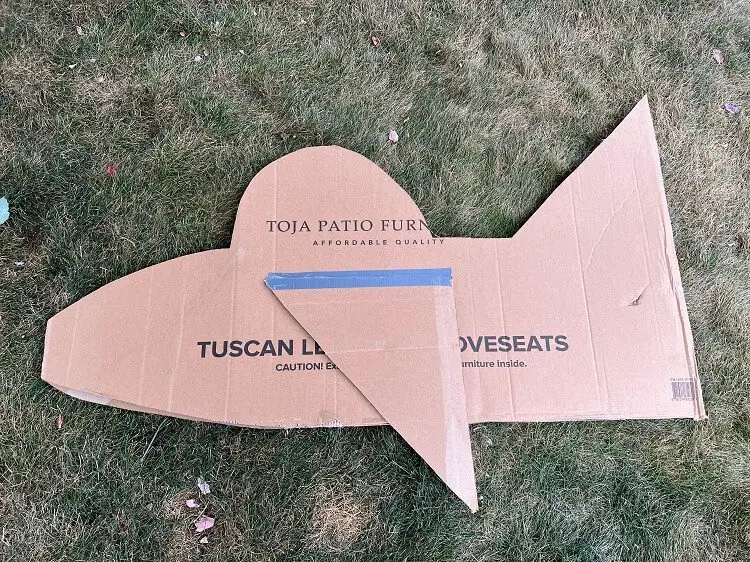 Paint the Fighter jet
We opted for a gray jet, so we painted all sides gray. Both the inside and outside of both jet pieces and the top and underside of the wing. We want the jet to look sleek, and having the inside remaining brown cardboard takes away from the costume.
The cockpit is painted white, again on both sides.
And adding black accent lines at the front of the jet, as the fighter jets have in the movie, the paint job is done.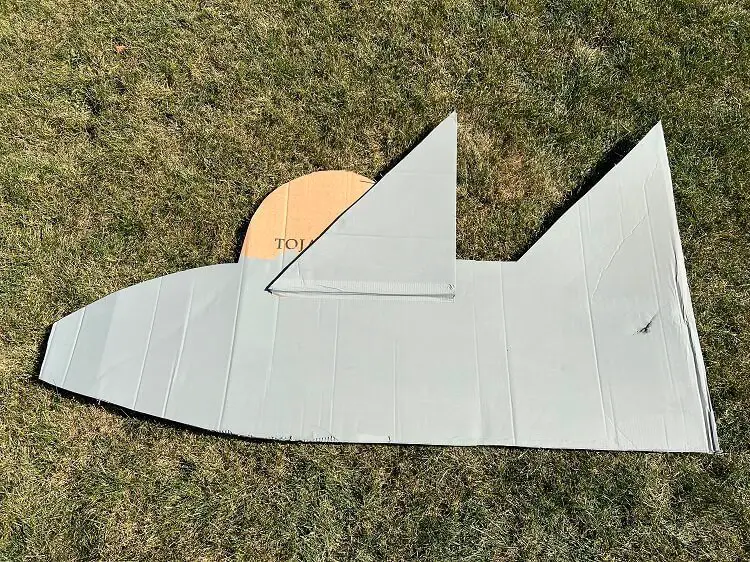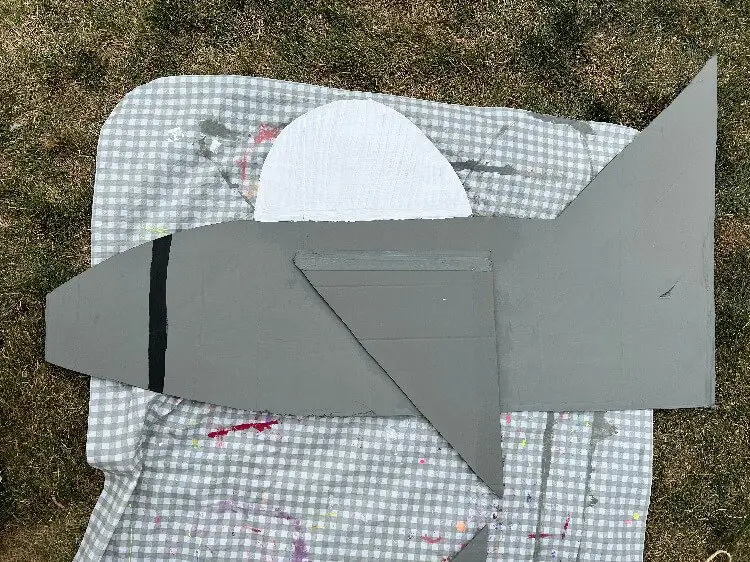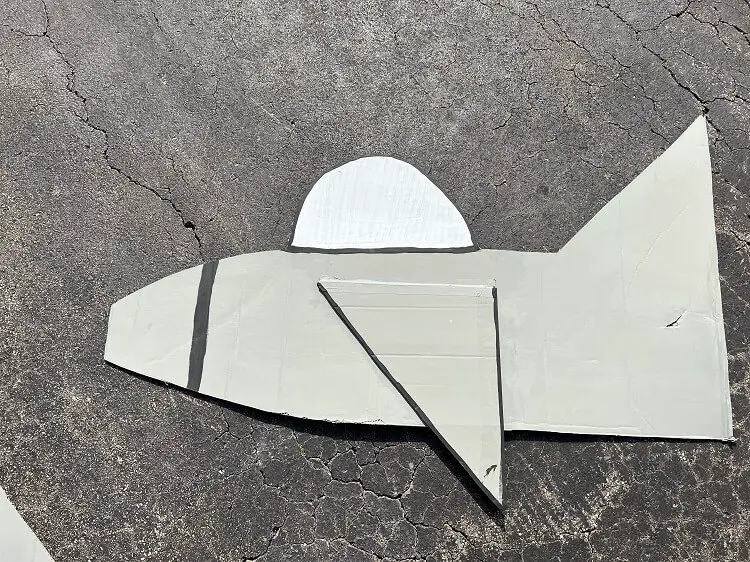 Options Decals on the Fighter Jet
If you have watched the new Top Gun Maverick movie, you may have noticed that the jets had some additionals designs on them. So, I pulled out my Cricut and cut out a few designs in vinyl to stick onto the jet. I'm not very good at painting straight lines and designs, so this is my preferred option. Of course, if you don't have a Cricut, you can just paint some on.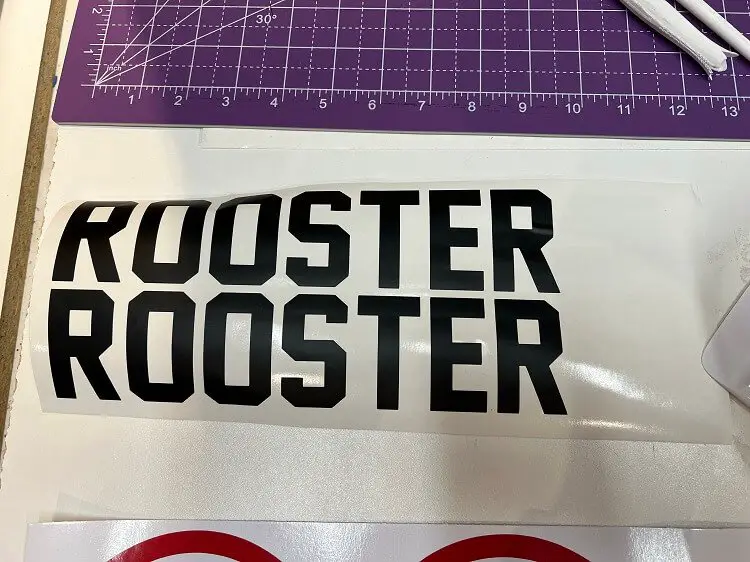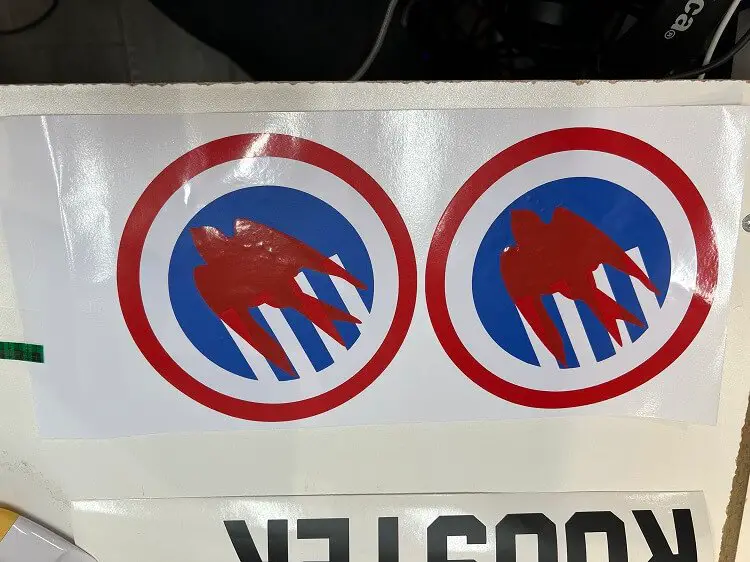 Install the Fighter Jet to the Wheelchair
I recommend this part be figured out a few days before Halloween, if possible. Trying to get this figured out the night before can be stressful.
You will need 2 adults for this – one to hold the jet in the approximate place and the other to mark off the locations of the wheelchair frame where the zip ties can be attached. Using a sharp box knife or drill, poke holes in the cardboard.
Expanding the fighter jet wings on Halloween Night
To hold the wings up, I taped 2-rectangle pieces to hold the wing up, one on each side. They were painted gray like the rest of the jet, and we used plain gray duct tape.
And that's it! You're done your Fighter Jet Wheelchair Costume
And that's it! The fighter jet wheelchair costume is done! All that is left is to put on your fighter jet pilot costume, and you are ready for Halloween!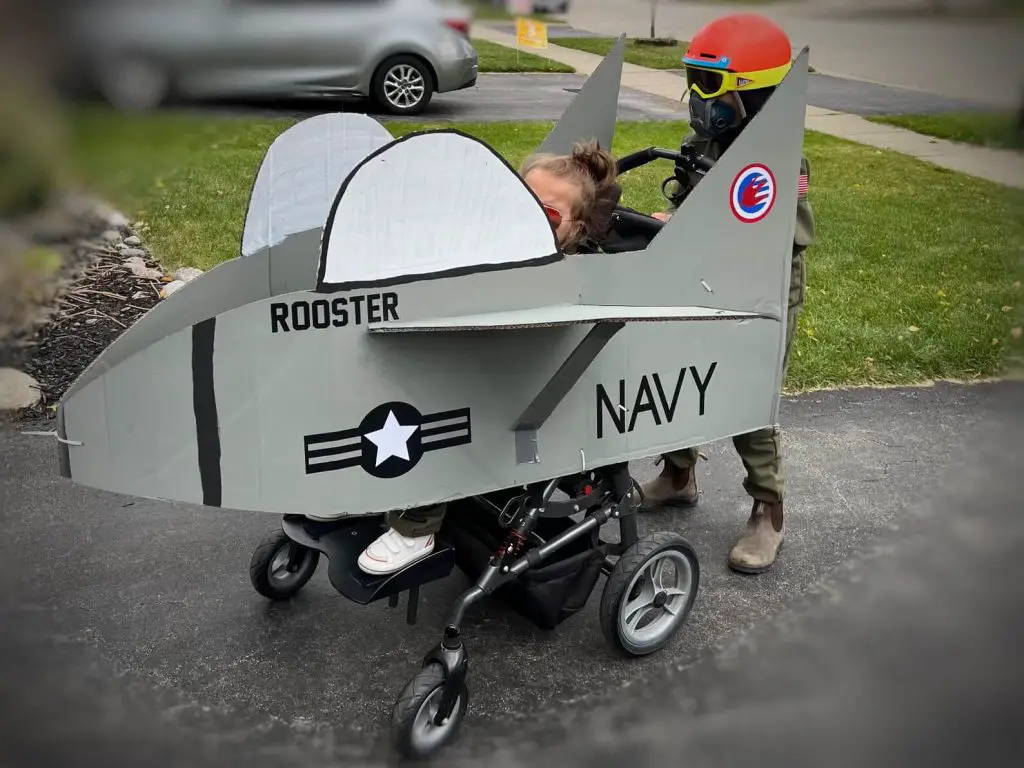 Frequently Asked Questions about wheelchair Halloween costumes
How long does it take to make a fighter jet wheelchair costume?
This project took several days to complete. That is because we needed to find time to get all the pieces done. If it were to be done in one day, the following timelines would be applied:
sketching and cutting – 30 minutes
painting gray outside- 30 minutes
dry time – 1 hour
painting gray inside – 30 minutes
paint try time – 1 hour
Applying optional vinyl decals – 10 minutes – design, cutting and weeding can be done during paint dry time.
Install jet onto wheelchair – 30 minutes for the first time – finding locations of holes. This should only require about 10 minutes or less on Halloween day.
From the above timeline, it would take about 4 and a half hours, or a bit less, depending on how long it takes to dry the paint.
Can you make other wheelchair Halloween costumes?
Yes, absolutely. You just have to be creative, and think outside the box. Or, as in our case, think inside the cardboard box.
How to you transport a Halloween Wheelchair Costume?
When working on the design for the wheelchair costumes, we try to make them easy to install onto the wheelchair. Typically on Halloween, my friends try to walk to school, but if it is raining, the design allows for quick installation at the school with zip ties. And they can quickly be cut off at the end of the day for a drive home.
This design allows the wings to expand, but that is not for at school as the wheelchair would not fit through the doorways.
What do you do with old wheelchair Halloween costumes?
There are large communities of wheelchair-bound individuals. When we are done, the costumes are offered up to friends in these communities if they want to hold onto them for next year. Sadly, not everyone has room to store such a large costume for a year, so they may get thrown in the garbage.
Did you find this post helpful?
Did you find this post helpful? This is the second year I have made these costumes. They are lots of fun to make and always a challenge. I hope the details here have been helpful and inspired some other great wheelchair Halloween costumes. Let me know your thoughts in the comments below.
Check out my other wheelchair costumes here:
Check out other Halloween costumes here:
DIY – How to Make a Skeleton Costume
Sign up for my newsletter to get access to my Resource Library and the inside scope on what is coming up!