There is still a lot of faux leather here
If you have been following my posts over the last several weeks, I have been posting about faux leather.  I bought some faux leather with an idea to make some cute things for the kids.  Well, it turns out that the small amount that I bought is actually an insane amount of faux leather.  So, here I am, creating all sorts of nonsense with faux leather, the glitter kinds.  My latest of what I feel will be a never-ending saga of faux leather is glitter clutches, or glitter purses depends on what you want to call them.  Nonetheless, they are the  faux leather clutch.  So here we go!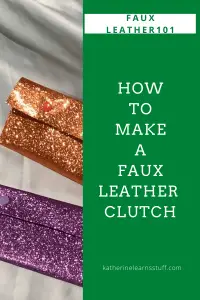 This post contains affiliate links.    I may receive a commission if you purchase an item from one of my links. This will not change the price you pay.
How to Make a Faux Leather Clutch
What You Need:
Faux leather – This is the stuff I used.  There is a lot, be warned!
Needle & thread or sewing machine
Snaps – these are the ones I use – they are fantastic and conveniently come in every color of glitter faux leather that I have.
Let's Begin!
Measure the Faux Leather
I did not want the clutch to be too large, so I measured it to be about 9″ x 8″.  
It would have been possible to use a full 12″x8″ piece, but I did not want to make it too big.
But really, you want to be able to fold it two times so that it will be able to hold a few minor items and then also have a flap to close.  Any rectangle size will work.
Cut to the desired size.  I just drew a line on the back with pen and cut with scissors.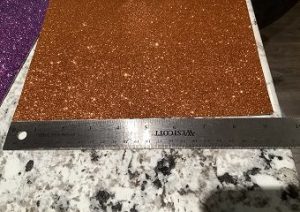 Fold and Sew
Fold the faux leather so that you have a larger bottom portion.  That will be the purse part.
It can be ironed to get a nice flat crease at that bottom, but not required.
Sew the edges of the purse.  Ideally, you want to use a thread that is similar in color to the material.
I used my sewing machine (as I managed to fix it) although, you can do it by hand.  It will just take longer by hand.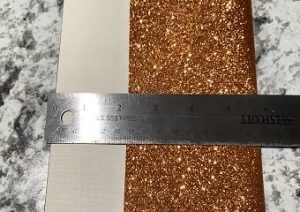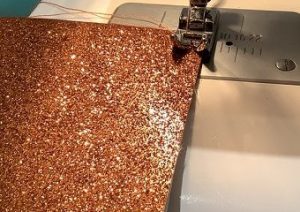 Optional Ironing
Now that the bottom of the purse is complete, you will be working on the top flap.  Again, you can iron it so that it stays in the correct spot and the edges are even.  It is not required but will make it a bit easier to align the snaps in the next step.
Add snaps
For the size of the clutch I was making, I decided to use two  snaps per purse.  That will help keep it shut and the contents secure.
I roughly measured about 2.25″ from the edge of the purse on each side for the snaps.  I installed the inside pieces first.  Then I lined up the outside ones on the already installed bottom ones to make sure they aligned correctly.
I have been using these snaps for everything lately, so if I have missed a step in assembling them, I apologize.
Each snap needs two backings and a male and female end.
Using the handy plyers provided with the set, squeeze the snap pieces together.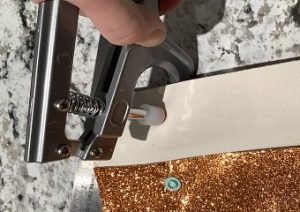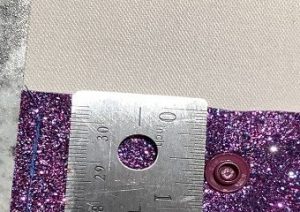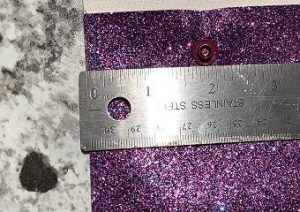 And That's It! You're Done!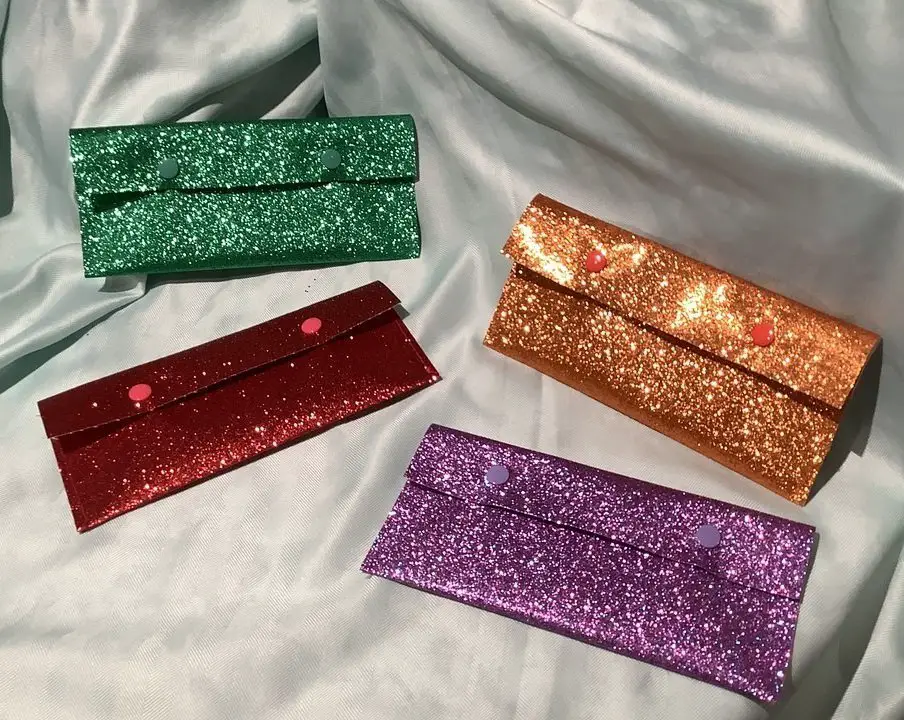 What Did I learn from this?
 Just so we're clear – when  you are buying faux leather, be aware that they are selling you a LOT!  Even if you think it is not.  If I had known how much I was signing up for, I would have purchased a smaller package.
The size of the clutch I made is great for an adult.  My girls have packed them full of 1/2 of their small little toys and they still have space.  So be cognizant of what you need it for and how much you want in there.
Having a large variety of different glitter faux leather is especially nice during the holiday season.  This glitter does not come off the material so you will not be covered in glitter at the end of the night.
I'm not sure how long these will last, but for now, it has been several weeks of daily use by the kids and they are still holding up.
Was this Tutorial Helpful?
Did you find this tutorial on how to make a faux leather clutch helpful?  Let me know your thoughts in the comments below!
If you liked this tutorial, be sure to check out my other tutorials here.
Sign up for my newsletter to get access to my Resource Library and the inside scope on what is coming up!