I've recently jumped on the cupcake toppers bandwagon, and now I can not stop making them! And with American Thanksgiving just around the corner, time to make some Thanksgiving cupcake toppers! So, let's jump in!
This post contains affiliate links.    I may receive a commission if you purchase an item from one of my links. This will not change the price you pay.
Supplies needed to Make Thanksgiving Cupcake Toppers
The supplies needed here are nothing crazy, just a few simple items listed below.
Access to Cricut Design Space
Card Stock – any Thanksgiving colors, such as orange, brown, yellow, black and white. I typically buy Recollections Paper from Amazon, but you can also buy some great seasonal cardstock at your local dollar store.
Permanent Vinyl – Options – I use vinyl for letters instead of cardstock.
Transfer Paper – This is only if you are going to do the letters with vinyl and not cardstock. Otherwise, it is not required.
Glue – I use Barely Art Precision Craft Glue. It dries quickly and does not leave creases on the paper when dried.
Toothpicks – I like to use toothpicks, but you can also use cake-pop sticks, they are a bit thicker and more sturdy, but I find toothpicks work great.
Cutting machine – I use my Cricut Explore Air 2, but any cutting machine will work.
30 minutes – 15 minutes to design and cut out, and 15 minutes to assemble.
Cupcake topper design – I created my own design, which you can access in my resource library, or you can create your own.
Sign up for my newsletter to get access to my Resource Library and the inside scope on what is coming up!
Using my Free Thanksgiving Cupcake topper design file
If you have downloaded my cupcake design file, you will need to do a few things to get it up and running.
Import the file into Design Space by selecting the Upload button.
Then, select Browse Files.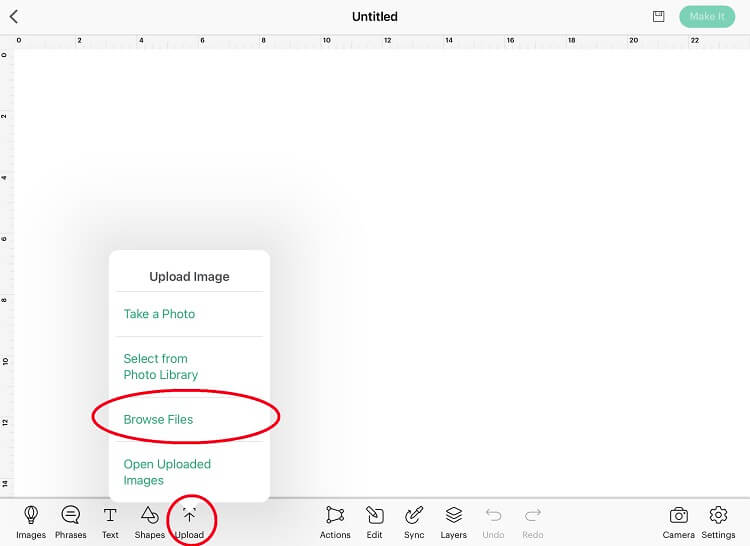 In your files, you will have the Thanksgiving Cupcake topper file that you downloaded. Select that file, give it a name, and save it in your design space.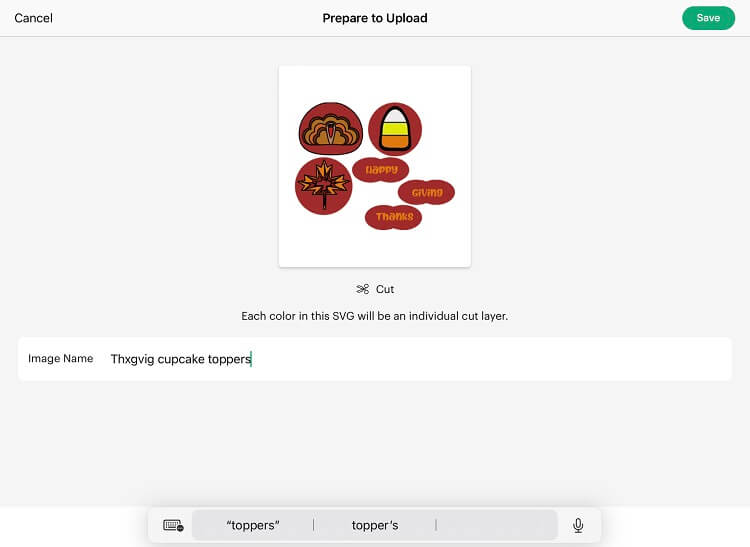 Once you have saved it, it should automatically appear on your canvas. You will notice that the file is very small. Sorry, I have not been able to figure out how to make them import at the correct size.
So, you will need to increase the size of the Grouped file. If you increase it to 6″ in width, it will be a good size for the Thanksgiving cupcake toppers. This makes each cupcake topper just over 2″ in size, which is a nice size for cupcakes. You can make them a bit smaller or larger depending on your preference.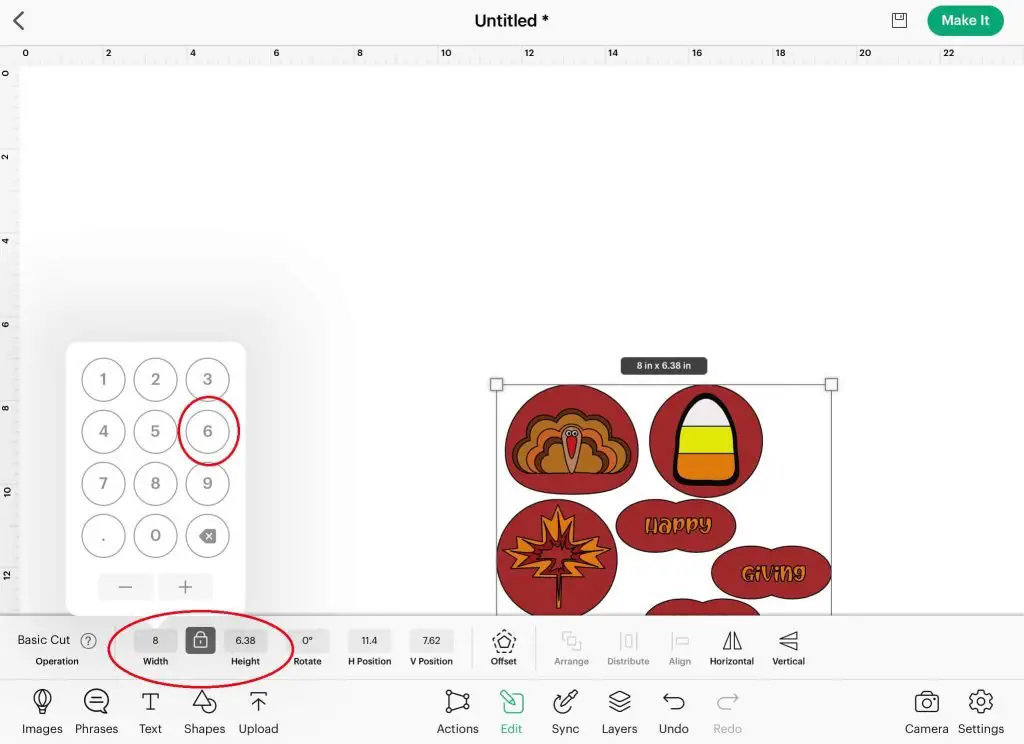 You can now ungroup the file, and you will have several different cupcake toppers.
If you want to change the color scheme or reduce the number of colors I have included in my design, now is the time to do this.
Once you like the layout, one last thing to do is select the letters from each word and attach them together so that they are cut as a word and not as individual letters.
Then hit Make It, and your cupcake toppers are 1/2 done!

One thing that I like to do is when cutting words out, I prefer to use vinyl rather than cardstock, as I find it is easier to work with and easier to adhere to the other cardstock.
Assemble Your Thanksgiving Cupcake Topper
Once all of the pieces have been cut out with your Cricut, there are only a few minor steps left. So let's get started!
Organize Your Cupcake Topper Images
This may seem silly, but you should group all the pieces together. Make little piles for each cupcake topper. This way, you will not mistakenly glue the wrong pieces together.
For the words "Happy Thanksgiving", weed the surplus vinyl.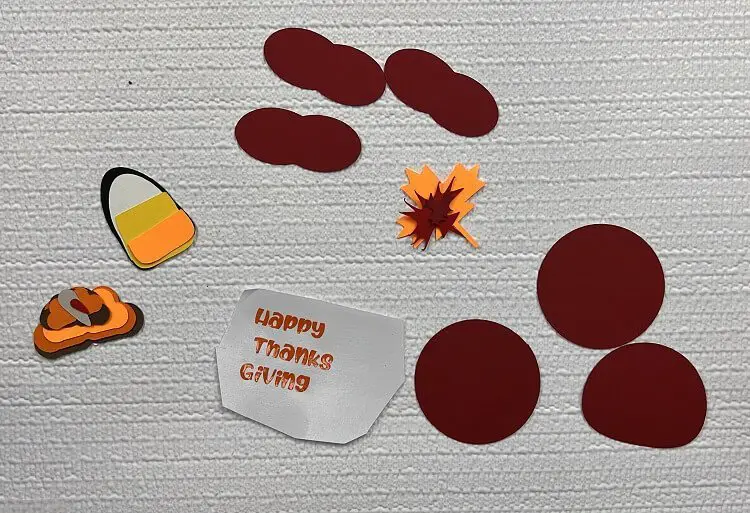 Assemble The Thanksgiving Cupcake Topper Together
Pull out your glue, glue the design to the offset backing, and then glue that to the backing piece. This is simple enough. Now, you need to wait for the glue to dry before you move to the next step. I like to place my designs under a thick book to help them stay straight, but that is not needed.
When applying the words, place some transfer paper on top of the letters and then burnish them onto the transfer paper. Remove the backing paper slowly – do not remove the transfer paper. Pull off the backing paper of the vinyl. Then stick them onto the cardstock in the location you want.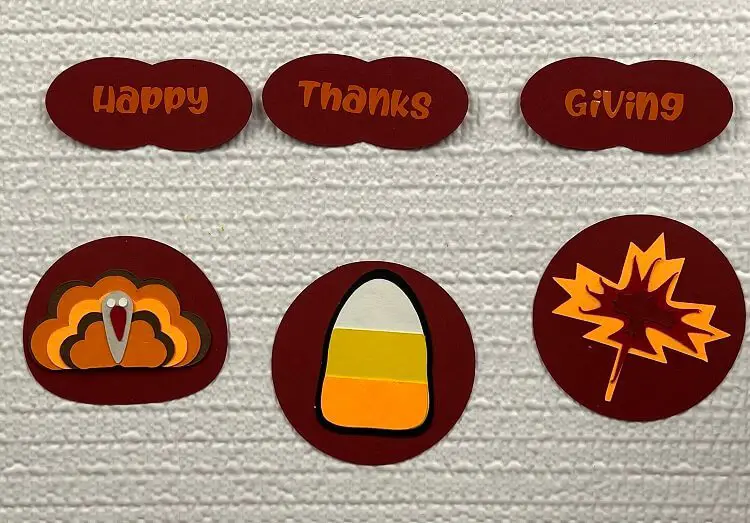 Glue On The Toothpick
Once the toppers are dry, flip them over and glue on the toothpick. I use the same glue as above, as it works just fine. You can use a hot glue gun or other glue if you prefer. Let this glue dry as well.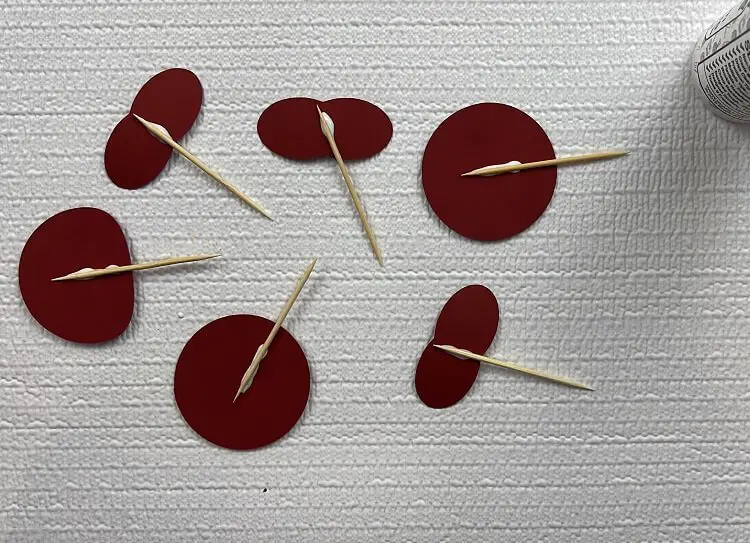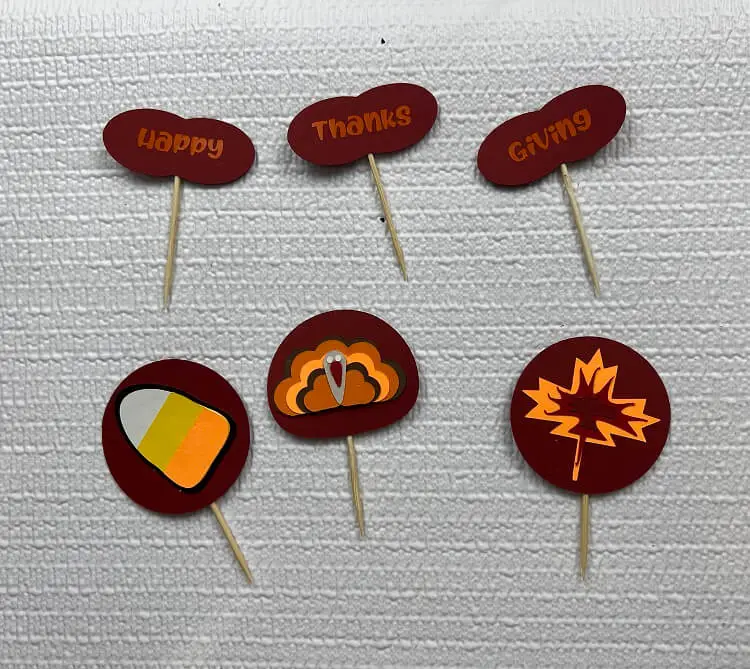 And That's It! Your Thanksgiving Cupcake Toppers are Complete!
Now it is time to put the Thanksgiving cupcake toppers into the cupcakes and get ready to eat them!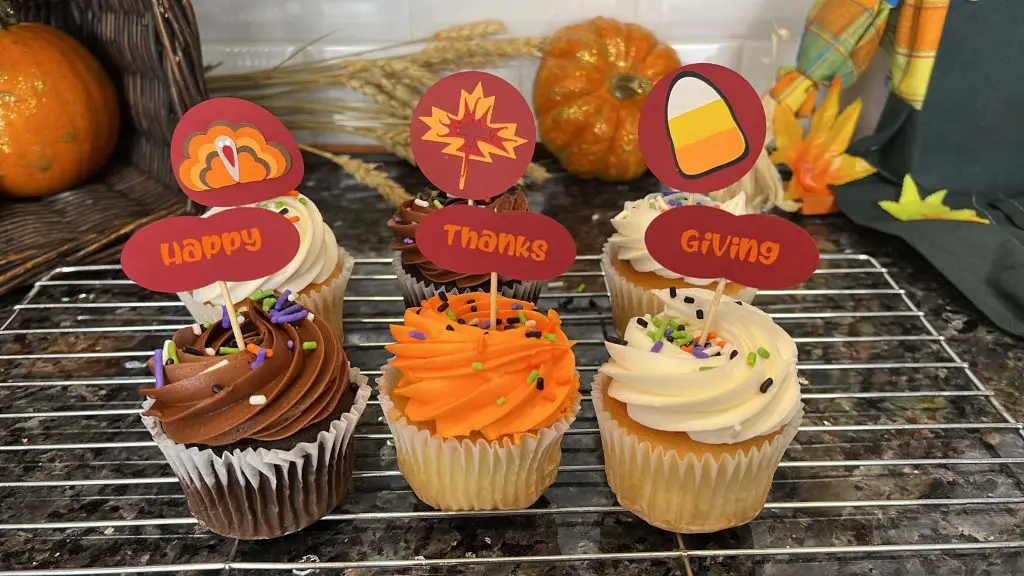 Frequently Asked Questions About Thanksgiving Cupcake Toppers
How Long Does It Take To Make Thanksgiving Cupcake Toppers?
The whole process, from start to finish takes about 20 minutes. About 5 minutes to import the design and size it to the way you like and cut it, and about 15 minutes to glue all the pieces together. However, if you are making 20+ cupcake toppers, assembly and cutting will take longer.
Can You Reuse Thanksgiving Cupcake Toppers?
Yes, you can reuse them. You will just need to collect them all after they have been removed from the cupcakes and wipe off any cupcake or icing that is on the topper. But you will need to be mindful of people licking them after use and germs, but I leave that up to you.
What Other Types Of Toppers Can You Make?
You can make cupcake toppers for any occasion. Currently, I have these Thanksgiving cupcake toppers and Halloween Cupcake toppers, but I am hoping to make others soon.
You can make cake toppers for any event!.
Did You Find This Tutorial On Making Thanksgiving Cupcake Toppers Helpful?
Did you find this tutorial on how to make Thanksgiving Cupcake toppers helpful? Let me know in the below!
Did you try it out? How did it turn out! Do not forget to share!
If you liked this tutorial, check out my other paper crafts here.
You can also check out some of my other Fall and Thanksgiving-related posts below:
Sign up for my newsletter to get access to my Resource Library and the inside scope on what is coming up!