Making Coloring Pages for Autumn Leaves
Autumn is here, and there is always a need for some afternoon activities with kids. In one of our outdoor adventures, we collected some colorful autumn leaves.  Crafts with autumn leaves are the way to go! So, I decided that this activity would use some coloring pages and leaves to stay in the fall theme.
This post contains affiliate links.    I may receive a commission if you purchase an item from one of my links. This will not change the price you pay.
Coloring Pages with Autumn Leaves
This activity works better with younger kids, but you can make use of this concept with older kids as well.  Either way, it's an ideal way to keep kids busy! (and slightly messy)
What You Need:
Colorful leaves – several leaves of any color will do.  They can even be green leaves from the green trees, in case you don't have colorful leaves in your area.
 A sheet of paper with a picture to color on it – you can use one straight out of a coloring book, find one on google, or you can make one with your Cricut as I do here.
Let's Begin!
Collect your supplies
You'll need to collect your leaves from outside.  Preferably dry ones, or let them dry inside before you use them.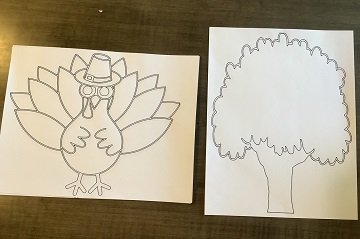 Color in your picture
As it's autumn right now, I figured we'd use a picture that is fall-related, so I picked a turkey and a tree. 
Have your kids color these pages in as a first step.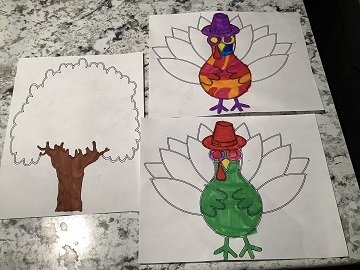 Glue leaves on
Glue the leaves on all over the picture to add life to the final product.  I use standard kids glue for this, nothing fancy.
I let my kids enjoy the mess and go nuts with placing the leaves.
And That's It! You're Done!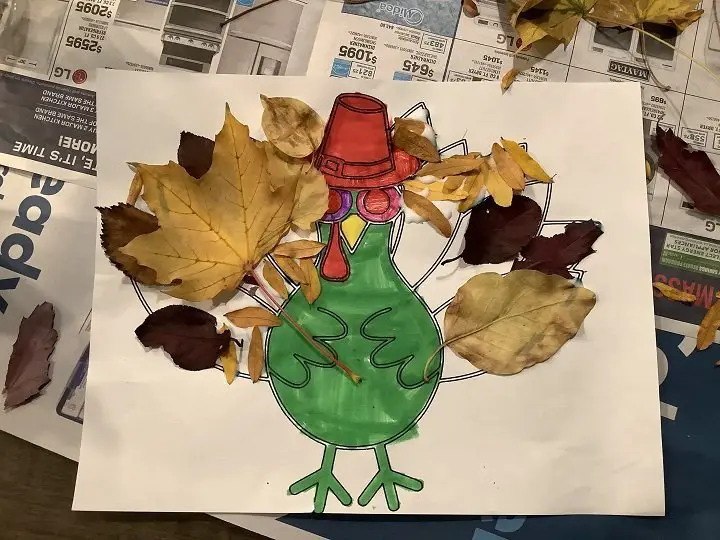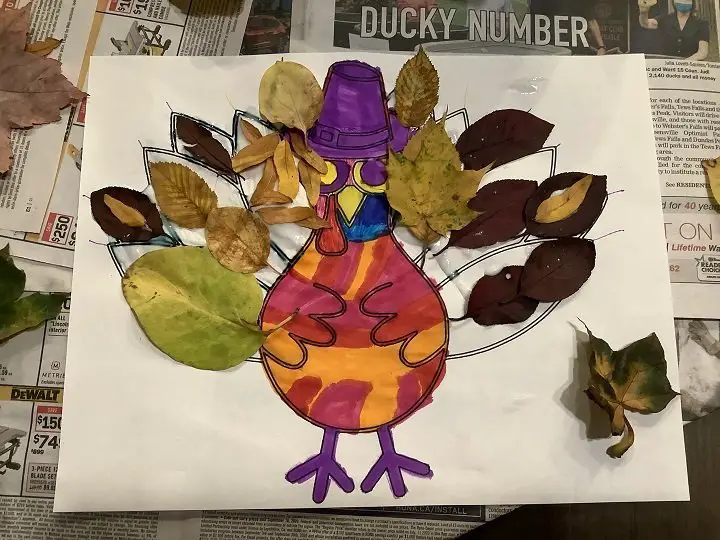 What did I learn?
As with most kids' crafts, I have high expectations, and I forget that kids are kids…  I learned several things from this activity:
collecting the leaves was the most enjoyable part, for everyone involved.
this activity can't be done late in the evening, as attention spans are very limited
a lot of glue will be wasted… it's best to have glue rationed out
I had high hopes with coloring 2 picture each and gluing 2 each… that probably would have taken a week to accomplish
However, I did get to spend some fun time with the kids and listen to them analyze why each and every piece needed to go exactly in the spot they were gluing it…  But it was fun!
Was this Tutorial Helpful?
Did you find this tutorial on crafts with autumn leaves helpful?  Let me know your thoughts in the comments below!
If you liked this tutorial, be sure to check out my other tutorials here
Don't forget to sign up for my newsletters!  You'll get inside tips on upcoming posts and additional behind the scenes details about what's happening on the site!