Do you wear a face mask?
These are strange times, and one of the strange things that have happened in our society is that we now have to wear face masks.  Face masks to the store, into any building, and for the kids to school.   If you're not wearing a face mask in public places, check out this article by the WHO and possibly reconsider.  But if you are wearing a face mask, you need dirty bags for face masks as well.
The funny thing about face masks is that they get dirty and after wearing them for a few hours, they also get stinky.
My kids will be among the many that have to wear masks at school.  I know from experience with my kids, that by noon, those masks will be dirty and stinky and sweaty and just ready for a change.  At this point, I'm planning on sending my kids to school with 2 masks per day.  One for the morning and one for the afternoon.  One thing I realized during my back to school planning, is that my kids will need somewhere safe to store their masks, both clean and dirty.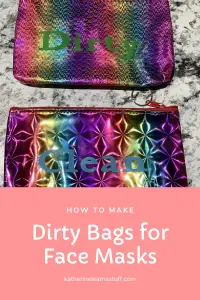 Thus, the Mask Bag
This is when I thought, my kids, need dirty bags for face masks.  Nothing fancy, just plain and simple.  Below, I have 2 different types of bags that I made for my kids. Both are in testing phases with the kids to see which ones they like better.   I have made two styles:
1: Ziploc bag – super easy and disposable (although not environmentally friendly) and;
2. Pencil-case/make-up gab – more permanent (at least for the time being).
Dirty Mask Bag Logistics
Some things I have been thinking about while making these bags for my kids:
There needs to be a clean and dirty bag so that the masks are safe
I would prefer for the bags to be attached so that they are easily accessible for my kids.  2 bags will make losing one easier.
Washable – this bag will need to be washed regularly to keep germs away.  Or I'll need an easily disposable one that I can reproduce daily/weekly.
Fun – kids are already struggling with masks and the new normal, so a fun bag makes them want to use without as much fuss.
The Ziploc dirty mask bag
This one is pretty easy but still requires some minor work.
I took 2 Ziploc bags.  On one, in green sharpie, I wrote "Dirty" with some green wavy lines to make it look like it's smelly, and on the other, I wrote "clean" in a blue marker with a smiley-face.    I used different colors and designs to help my kids understand the difference, as they're not great at reading yet.  For little kids, I find pictures work better than words.
I used clear packing tape and tape the two bags together. 
As the bags are clear, it's hard to see which bag is which, so I inserted a white piece of paper between the two bags to add some contrast. 
Pencil-Case Dirty mask bag
I went to the local dollar store and bought a few pencil-case/make-up bags that had pretty colors on them to use.  As I have girls and they like rainbows, so flashy colors work well.
I considered sewing them together, but if I sew through the inside, then the two insides will be connected with a common thread, ultimately defeating the purpose of 2 separate bags.
I had tried to use tape to hold them together, but after the first day of sitting on my desk in the design phase, the tape started to peel off.  There are a few tricks I know for helping tape stick – heating it with a hairdryer.  I tried this to help keep things sticking  –  but this didn't help.
Ideally, these bags need to stay together for a while, but this method won't allow for that.
Again, I made green "Dirty" lettering and blue "Clean" lettering so that they could easily differentiate between the two.
Which type works the best for you?
Below, I have outlined some pros and cons that I have found in both types of dirty mask bags that I made.  Hopefully, this will help you in deciding which type you might like for yourself.
Pro's of each type of bag
Ziploc bags
easy to make
easy to maintain
no cleaning required – can just be thrown out
don't need to use name-brand bags
Pencil-Case/Make-up bag
reusable – don't need to make a new bag often
washing machine safe
fun colors/design options can be done
inexpensive if you buy at the local dollar store
Con's of each type of bag
Ziploc bags
need to make a new bag daily/weekly.
can become costly
may become time-consuming if you decide to make new ones daily.
Pencil-Case/Make-up bag
keeping the bags together is troublesome
how often do you wash the dirty bag?  If daily then you need to have multiples of this as well.
May need multiple dirty bags to make it through the week
Additional Thoughts
When making dirty bags for face masks, I had several other thoughts that I would like to share. 
To keep the dirty contaminated mask away from the clean mask, I found that having the opening of one Ziploc bag on the opposite side of the other. (ie: head to toe).
Keeping these bags clean (especially the dirty ones) will require some work.  Do you plan on doing laundry daily? weekly?  A less permanent bag will make this easier.
Instead of buying bags, you could easily sew a bag out of material to use instead, but again, 2 bags sewn together could cross-contaminate.
What Did I do in the end?
I would love to have 2 bags attached and safe, but I worry about the dirty bag being dirty for long and being carried around for a long time.  So, I opted to do both.  I have a clean bag that is a pencil-case and a dirty bag that is a Ziploc bag.  The dirty bag will be thrown away daily (or potentially washed? but probably not).  And the clean bag will be washed regularly on laundry day.
Make your own
The above examples are very simple and easy to make.  Don't be stuck carrying a dirty mask in your purse, or pocket or backpack.  There's no point in risking it!
Did you find this helpful?
Did you find this simple tutorial on clean and dirty face mask bags helpful? Drop me a note in the comments below!
Also, don't forget to check out my other tutorials here