Planting Herbs From Scratch
Every year, we try to grow herbs from scratch. The kids get a kick out of it, and hubby and I like to watch as well. This may seem like a simple task, but growing herbs from scratch is more challenging than you may expect. Or, might I say, having them survive is. The planting part is easy. So, let's begin our plant as it is that time of year!
What You Need:
There are many ways you can do this, but to keep it kid-friendly and contain some of the mess, we use the following: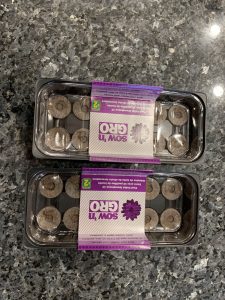 Plastic dome. You can use old muffin containers or buy a plastic dome at the local dollar store. We like the premade ones as they work well with item #2 below.   
Soil  – Loose or dried pucks work.  The kids get a blast out of watching the pucks expand, so we go this route.
Seeds – pick whatever you like.  We are doing herbs – basil, oregano, and thyme.  But anything that has tiny seeds works.
Water
5-10 minutes to seed, weeks to grow.
Let's Begin!
Wet the pucks
Open the dome and place the pucks inside.  Add water and wait.  They pucks will start to expand.  The start off about 1/4 inch thick and end up being approximately 2-inches high.  
This is neat to watch as an adult, but for kids understanding that the soil inside is super dry and when it gets wet it expands makes their eyes pop in amazement. 
Keep adding water until the pucks are fully grown, about 2″ in height.  Then, add a bit more water to keep the whole system wet.
Dry Pucks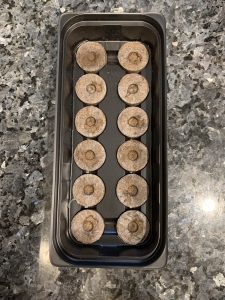 Just Wetted Pucks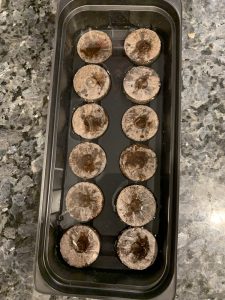 Moderately Wet Pucks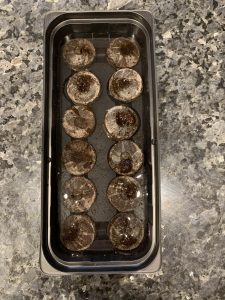 Fully Wetted Pucks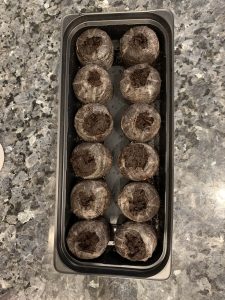 Add Seeds
Put seeds into each puck.  From years of doing this, I find it is best to put multiple seeds into each puck.  This will help some catch.  But do not overdo it, as you do not want too many.
Seal it up, and now you wait!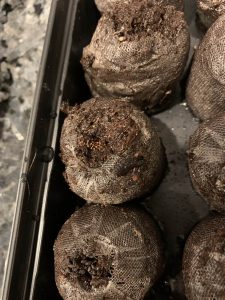 And That's It! You're Done!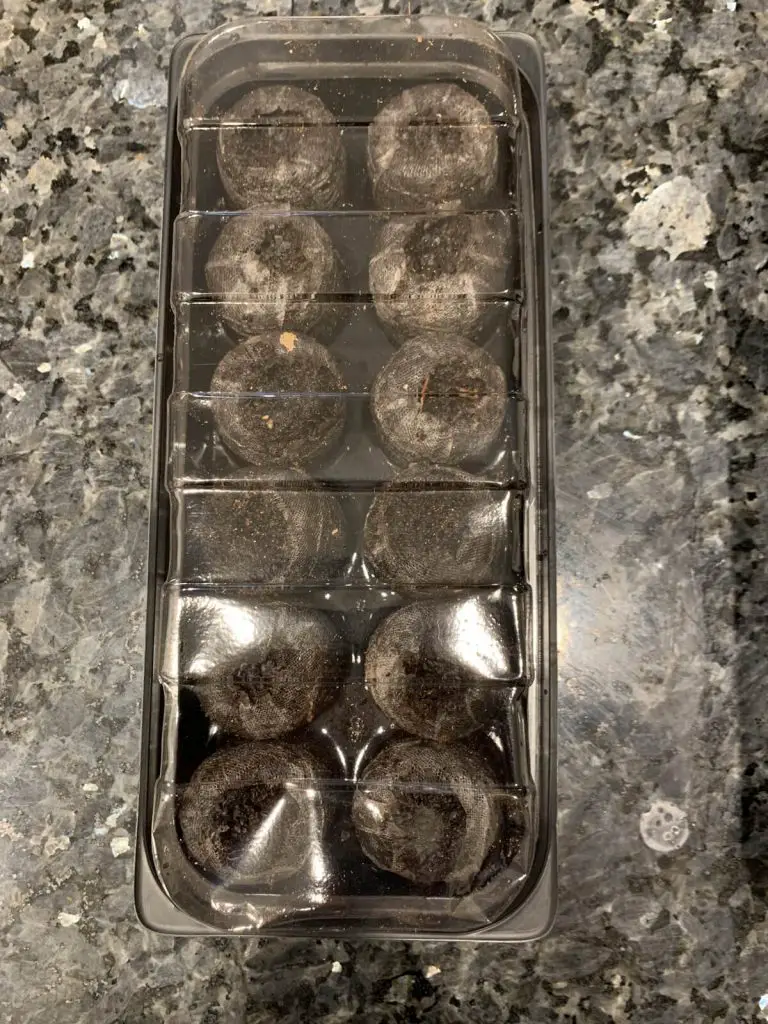 Some things I've learned along the way…
Basil is really neat when you plant it. It almost instantly starts to grow. Within seconds of getting wet, the seeds expand and grow hairs on the shell. 
 Once the seedlings start growing and are nearing the top of the plastic dome, it is good to remove the lid each day. Starting off with a small-time, and increasing as the days go on.
Once the weather improves outside and is warm (about 10C or 50F), they can go outdoors (under the dome) for incrementally longer durations. Do not leave them in the direct sunlight.
The seedlings will start to get stronger and thicker, and soon they will be able to stay outside all day. Make sure to bring them inside if there is still frost outdoors or if the temperature is below 4C or 39F.
I often talk about not being wasteful and buying one-off things that you can make, but these domes and pucks really make children excited. And for the $2 it cost at the local dollar store, it is worth it.  They will reuse these domes for year to come, and now I do not have to share my 15 year old dome with them anymore.
Once the herbs from this season start to grow, I will take some pictures and post them at the bottom to show the progress.
Was this Tutorial Helpful?
Did you find this tutorial on how to grow herbs from scratch helpful?  Let me know your thoughts in the comments below!
If you liked this tutorial, be sure to check out my other tutorials here.
Don't forget to sign up for my newsletters!  You'll get inside tips on upcoming posts and additional behind the scenes details about what's happening on the site!
Updates on Growing Progress
Below are some progress updates on my grow herbs from scratch tutorial.
2 Days Growth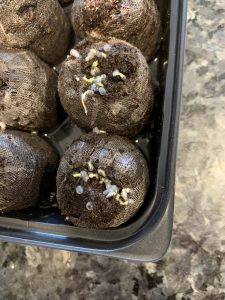 3 Day Growth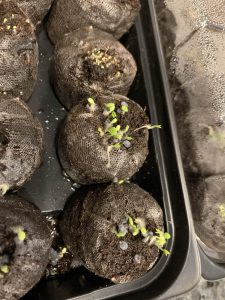 4 Days Growth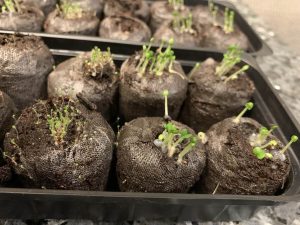 5 Day Growth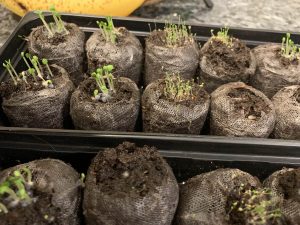 9 Days Growth
The seedlings have gown so big that the dome no longer covers them.
12 Day Growth
You can notice the seedlings are growing to the right as my window is on the right side of them.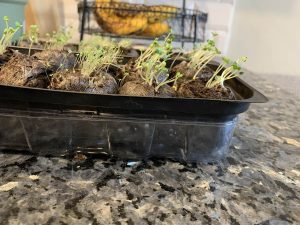 13 Days Growth
I have started to rotate the trays so they get more even distribution to the sun and grow up instead of on an angle.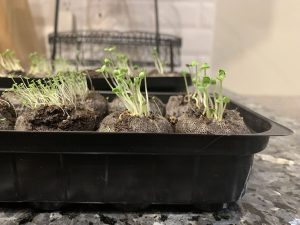 Don't forget to sign up for my newsletters!  You'll get inside tips on upcoming posts and additional behind the scenes details about what's happening on the site!