I like to work with canvas. Throw some paint on it, add a saying, and then hang it up on the wall. I will make some that are motivational, that make me happy, some homey sayings, something funny, you name it. The issue I have encountered is that I prefer to use large canvases. Canvases, that are larger than the vinyl sheets I purchase. So I thought it would be useful to share how to make larger than cut canvas posters.
This post contains affiliate links.
You need to have something in mind that you want to be displayed. I recently decided on creating one that says "everything is figureouable". I saw the phrase and thought, yes, this is what I need.  
So I went to Design Space for my Cricut and typed it out, then picked out a font that I liked. Nothing overly fancy, but just in the style that I found pleasing that day.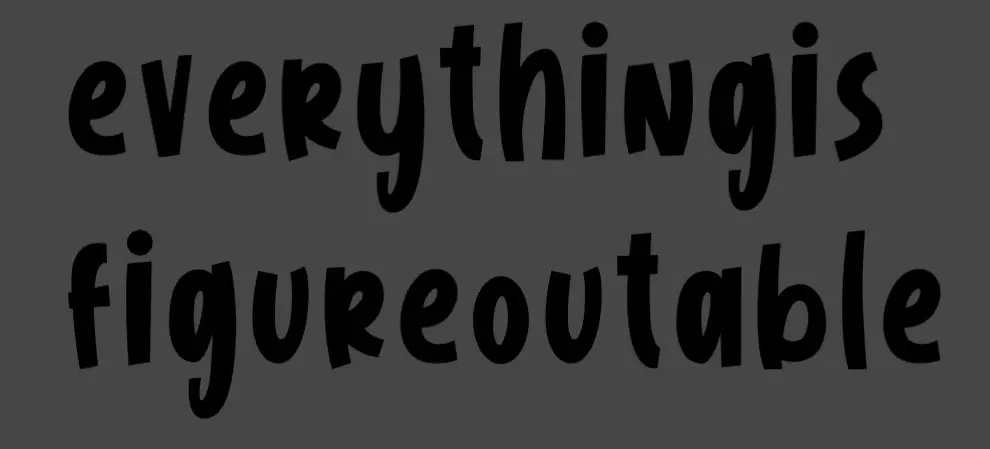 This seems like a simple step, but everything has to work out. I picked a canvas that was 12″ x 20″.  You need to know what size of canvas you will use before you start tinkering with your design and size. If this is not done at the front end, it will have to be reworked later in the project. So trust me, pick the canvas size first.
When working on canvas posters, once I have figured out my canvas and phrase, I make a box in Design Space that is the exact size of the canvas that the final design will go on.
This helps me visualize how much space I am working with and how much bigger/smaller the words need to be.
For my design, I broke the text box into 3 separate sections.  One section was made large, and two were kept smaller.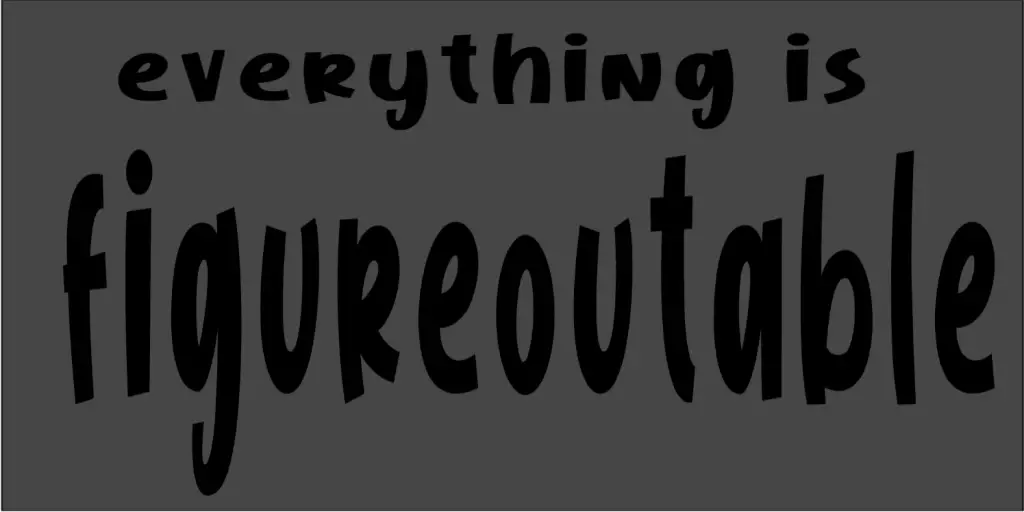 Break the design into pieces
I only have 12-inch width by 12-inch long pieces of vinyl for cutting. I know I can buy them in larger sizes, but I like to work with the materials that I have. 
This technique works as well for things that are larger than 12-inches wide or 24-inches long.
In Design Space, I make several copies of my design and put one aside to keep the original safe for later.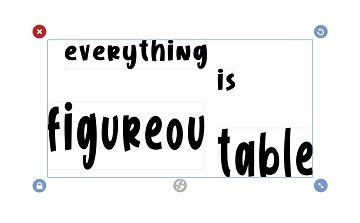 As I have already created 3 text boxes with the phrases I needed above, I only need to modify "figureoutable". So, making 2 copies of this word. I truncate the text to say "figureou" and "table". 
By looking at the text size, I could see that '"figureou" would be just under 12-inches long, which is my maximum useable length.
Design space will place the text anywhere on the cutting surface and will use more than 1 sheet. If you click on any of the text/image sections, an ellipse will show up (the three dots), and if you click on that, it will allow you to move that part to a different mat. 
Once all of the design is on one mat, move them around until you find the best position to make it all fit on the page. This can take some time, but it is worth it not to waste materials.  Just keep in mind, it will not always all fit on one sheet.  So you may need to work on 2 or 3 or more 12×12 sheets. I am just trying to keep it simple.  
Once you are ready, hit cut.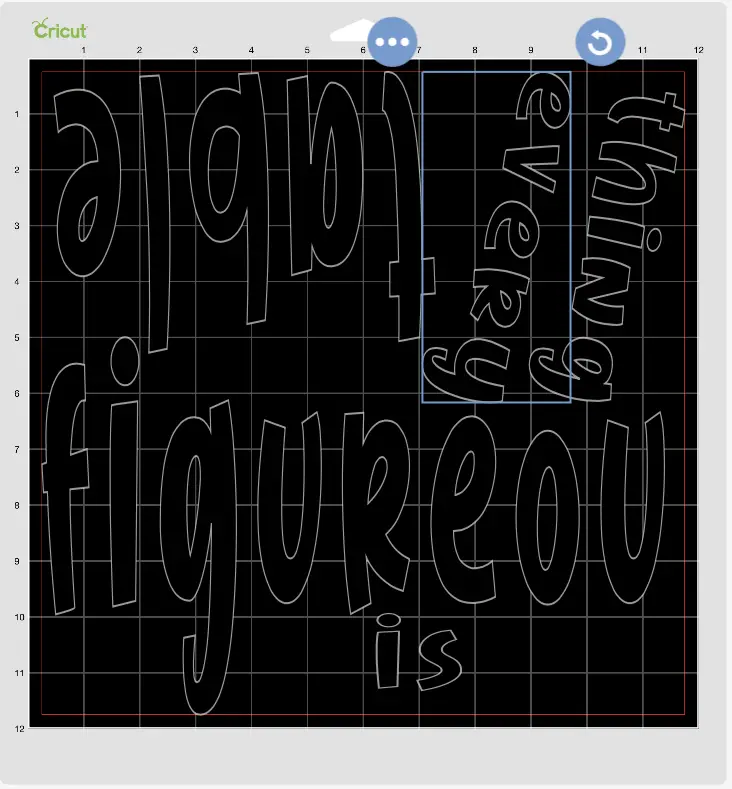 I just threw a few splotches of paint on a canvas and painted left to right to get a nice color gradient.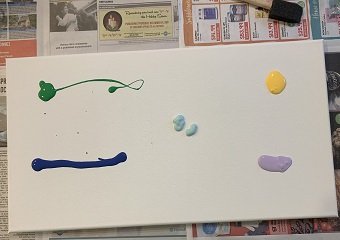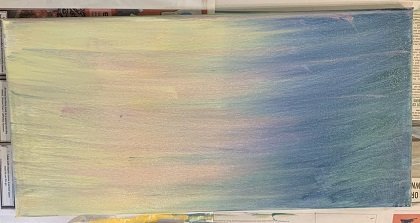 Weed and Prepare your design
Weed the design and cut around the edges to keep the text intact.  Cutting the surplus material also allows you to see the canvas behind. This is the time to play with the positioning and make sure that it fits your canvas.
I moved the weeded pieces around and slowly added more onto the transfer tap until I was happy with their positions.
The text that I selected is lopsidedly looking.  This helps with the alignment of letters as they are supposed to look off-kilter.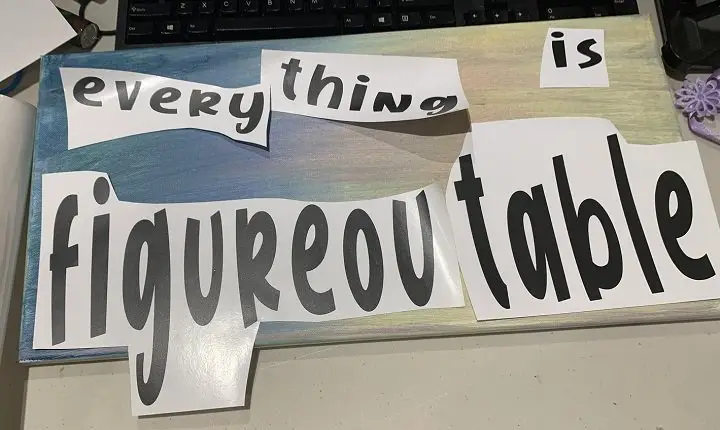 Remove the vinyl backing and apply the vinyl onto the canvas. Using a burnishing tool to help make the vinyl stick (use a flat edge to press the vinyl down on the canvas).
As the project was just on a regular canvas and not a reverse canvas, I like to flip it over after the design is on and burnish it a few times from the back to make sure the design stick.
Check out here to learn how to make a Reverse Canvas Here.

And That's It! You're Done!
I have done numerous larger than cut canvas posters, and here are some tips, tricks, and pointers from my learning:
If you are getting your kids to do this activity:




Make sure you are using a canvas that is the right size. If it is too big, it will not get finished.

If they are young (8-year-old and under), you will be doing the bulk of the work.

When applying vinyl to canvas, put some books or something hard behind/underneath. This hardness will help with burnishing, as well as reduce the chances of stretching, or tearing the canvas. However, if you do rip the canvas

, follow this link here 

to see how you can fix it without throwing away the whole project.
Was this Tutorial Helpful?
Did you find this tutorial on how to make a larger than cut canvas posters helpful?  Let me know your thoughts in the comments below!
If you liked this tutorial, be sure to check out my other tutorials here.
Don't forget to sign up for my newsletters!  You'll get inside tips on upcoming posts and additional behind the scenes details about what's happening on the site!