How to Add a Shelf Under a Patio Table
If you're anything like me, you'll have a ton of junk your patio table, leaving little to no space for you to eat.  It's always a hassle to even use it! This is what my table looks like on a good day!  Read below for a quick way on how to add a shelf under your patio table!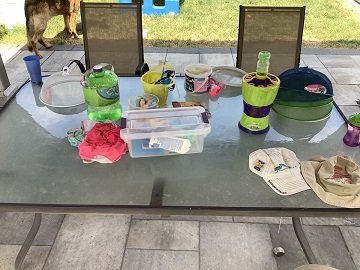 Metal Frame Patio table
large scrap piece of wood (or you and buy one specifically for this)
saw for cutting wood – either table, circular or old school hand saw.
Measure the Patio Table Frame
 First you need to measure the metal frame underneath the table.  Each table has slightly different sizes, so you need to measure yourself.  
It's a bit hard to see as I used yellow to mark up the drawing, but my frame dimensions are 20.5″x47″.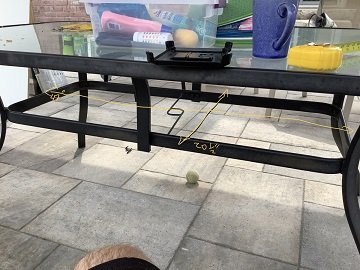 This second pictures, with the dimension of 17 3/4″ is going to be the size of the end of the table after I make some notches in it to sit nicely.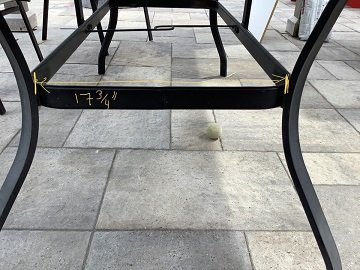 And this here is what I'm going to use for the shelf.  It's leftovers from a previous project I had.  It's just basic 3/4″ melamine board.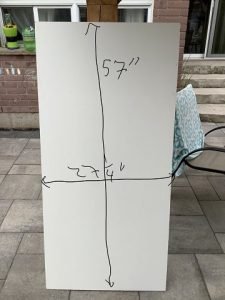 Now it's time to cut the board!  But before you do this, make sure you do one final measure!  The object is to measure twice, cut once.
As I mentioned above, I have to add notches to each of the corners so that the board sits nicely.  The notches are about 2″ triangles off the ends.
For the main cuts, I used a table saw and the notches I used a circular saw.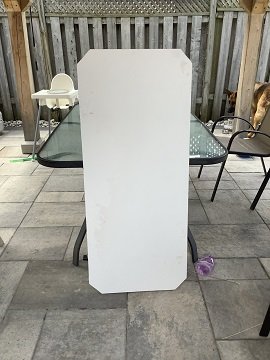 This is the easy step!  Install the board under the table.  You may need to have it on an angle to get it through the gap but otherwise it should fit smoothly!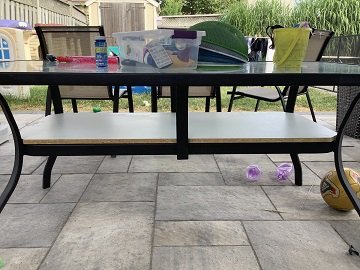 And That's It! You're Done!
If you don't cut notches in, the board will sit wrong.  See my picture to the right.  You could avoid cutting notches and just cut the board small.  However, this will give you less support on the frame.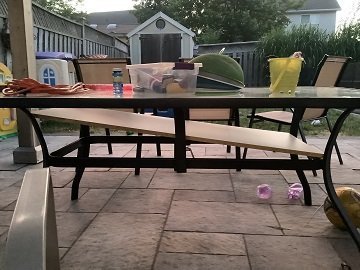 I haven't done this yet, but you an get a melamine finishing tape to finish off the edges of the shelf so that they are not exposed to the elements.
What do you think? Was this tutorial on how to add a shelf to your patio table helpful?  Did you try it? Did it work out?
Don't forget to check out my other tutorials here!
Don't forget to sign up for my newsletters!  You'll get inside tips on upcoming posts and additional behind the scenes details about what's happening on the site!