Mending Kids pants
It is amazing how fast kids will ruin pants.  It feels like I just buy a pair, and by the end of the day, the knees are all ripped up… I don't know how some people can afford to keep buying pants!  Or maybe they just don't let their kids have fun…?  But my kids are always wearing through their pants.  Long before they outgrow them, at least.  Several seasons ago, I learned how to mend kids' pants quickly.  And I have to be honest, I think it has saved me hundreds of dollars!  Instead of buying new pants, I just patch the old ones and put them back into circulation.  I am not going to lie… some weeks while fixing 10 pairs of pants for the 3rd or 4th time, I question my sanity, but then I remind myself that I have not purchased 40 pairs of pants.
This post contains affiliate links.    I may receive a commission if you purchase an item from one of my links. This will not change the price you pay.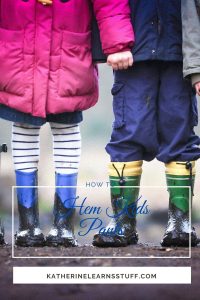 How to Hem Kids Pants!
This works on all kinds of pants.  My kids wear mostly comfy, stretchy pants (not jeans) so this works well.  I'm not sure if this is the case with denim.  Keep reading to see how I mend kids' pants,  and what I use.
What you need:
Pants with at least one hole.
Scrap material to patch hole with.
Teflon Paper (optional)
Let's Begin!
 If you're like me and have kids, finding a pair of pants with holes is a simple task.  Make sure you have washed and dried them before we start.
I'm using a pair of pants that have had several holes in it.  I am patching on top of a patch.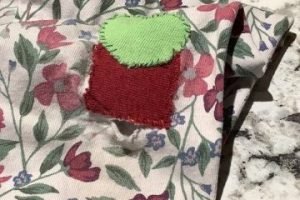 2.  Cut a piece of scrap material a bit larger than the hole.  I try to use the same material type. So if I'm fixing cotton pants, I use old scraps of cotton shirts.  
I am currently using hearts to cover holes, but you can cut the scrap material into any shape you want.  It's fun for the kids to have different shapes/designs.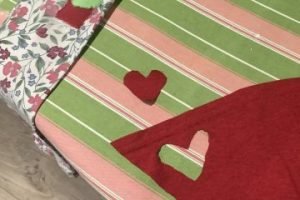 Fusing Tape Work
3.  Cut the fusing tape to be slightly larger than the patch that you just cut out.  I do this to make sure the patch sticks all the way around.
The below pictures show fusing tape, the cut fusing tape, and a close up of the assembled patch showing the surplus tape.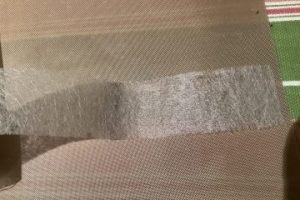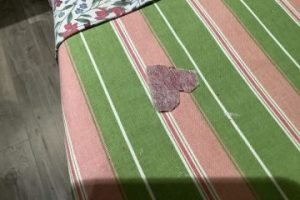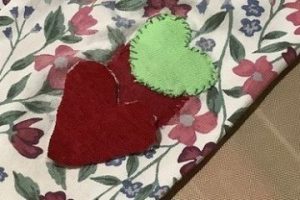 4.  Cut a little piece of scrap material to place inside the pants.  You want to do this so that the fusing tape doesn't melt into the hole and fuse the back of the pants to the patch.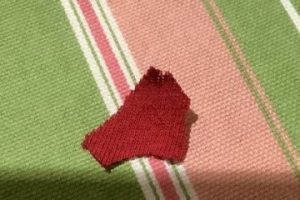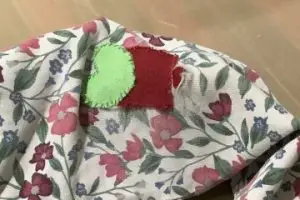 Ironing
5.  Heat up iron – I set it to the cotton/linen setting on my iron. But read the package on your fusing tape to get the exact temperature you should be using.  You should be using one of your hottest settings to melt the fusing tape.
6. Make sure the backing material inside the pants hasn't moved.
7. Place the fusing tape and patch material on the hole.
8.  Optional Step – Place Teflon paper on top of the material and pants.  I use Teflon paper to cover any work I do with my iron.  This keeps my iron clean.
9.  Place iron onto of patch and hold firmly for 30 seconds.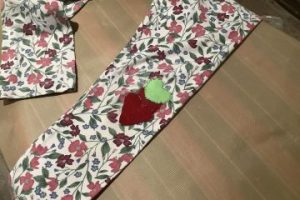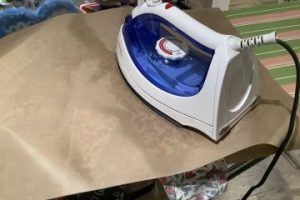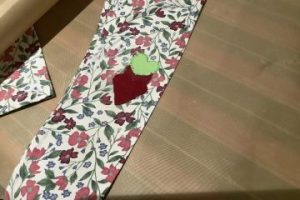 10. I check around the whole patch to make sure that the patch is stuck all the way around.
11.  Check the inside of the pants for that extra backing material.  Sometimes it has attached to the pants, sometimes it's loose.  If  attached, just cut the surplus off.  If not,  toss it.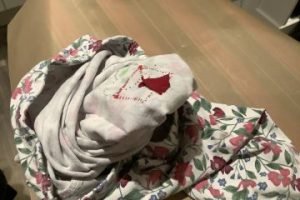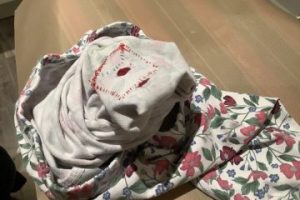 Some things I've Learned
I've put a close up here of the final patch.  You can see that the fusing material that was sticking out before has now melted, and you can't see it. 
I picked these pants for a reason.   When I first started patching pants, I would painstakingly sew around the edge of the patch to make sure it would stay put.  As my kids are little, the pants are too small to fit into my sewing machine, so I had to do this by hand.
However, I found the pants would lose integrity at the spots where I sewed the patch down, causing a new hole.  So I don't bother sewing around the edges anymore.   However, high wear areas can also have the patches come off.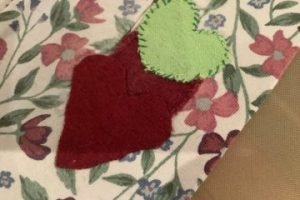 And that's it! You're done!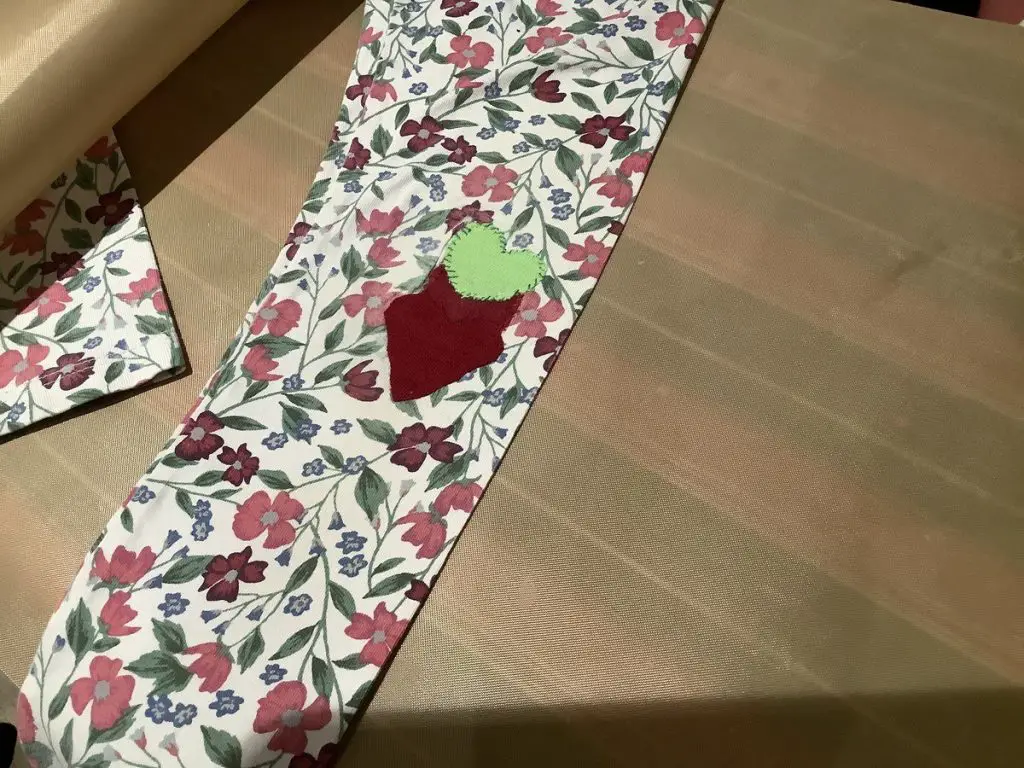 Was this Tutorial Helpful?
Did you find this tutorial on how to mend kids pants helpful?  Let me know your thoughts in the comments below!
If you liked this tutorial, be sure to check out my other tutorials here
Sign up for my newsletter to get access to my Resource Library and the inside scope on what is coming up!