At our house, we love to play board games. But playing them outside is always a challenge. Between the wind, the moisture and general kid rambunctiousness we found that standard-size board games do not work well outdoors. I have seen many people creating Scrabble sets to put on their walls, but I thought it would be more fun to have a backyard scrabble game to play with instead. And so, this is how I came to DIY Backyard Scrabble.
As an Amazon Associate, I earn from qualifying purchases.  This post contains affiliate links.    I may receive a commission if you purchase an item from one of my links. This will not change the price you pay.
Supplies needed to DIY backyard scrabble
This list is a bit more advanced than more normal supplies lists, but nothing that we cannot handle!
Wood – I used an old 4×4 post. I had it from when we had to fix our fence. This way, the material was basically free.
Saw – I used my mitre saw, but you could use a hand saw, which that will take much longer.
Letters for the scrabble set – there are several options. I did option A, but I have listed some others just in case you want to go a different route

Vinyl letters that can stick on – I used my Cricut Explore Air 2 to cut out the vinyl letters and numbers, or you can buy premade vinyl letters
Paint – you can free-hand-paint letters and numbers onto the pieces
Paint and stencil – you can create a stencil of all of the letters with transfer tape numbers needed for the scrabble game and paint them on.

About 4 hours.
Cut the wood for the scrabble pieces
Cutting the scrabble pieces is time-consuming. You need 100 square wood pieces for the game of scrabble. Even using my mitre saw, this activity took quite some time to cut all the pieces.
If you are a perfectionist, you can measure each piece to make sure they are the same thickness – I would recommend a minimum of 3/8" or thicker.
If you are not a perfectionist, just cut 100 pieces from your 4×4 and aim for similar sizes. This is the method I used.
Once all the wood is cut, you may need to sand some of the edges, as the wood may have split or had a rough cut. You do not want to get slivers when playing.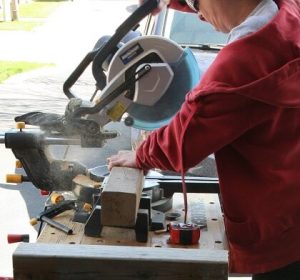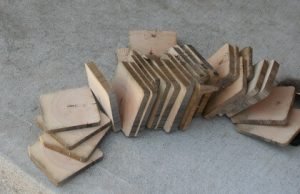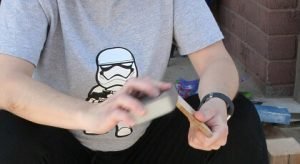 Apply Letters and Numbers so Scrabble Pieces
Once all 100 pieces are cut, it is time to stick on the letters and numbers.
Based on the options I listed above:
Vinyl – I found this the fastest way to affix all the letters and numbers. The one downfall was that it was a bit of a challenge to center the letters and make sure all of the numbers were in the exact same spot on each square.  I simply peeled the letters and numbers off individually and placed them in their locations. As I wanted to save vinyl I did not cut the letters and numbers spaced properly on my Circut.  I could have made a stencil to help place the characters in the correct and same spot each time, but as I am not a perfectionist, I did not bother.
Free-Hand-Paint – This method allows for more creativity if you want to add custom designs or fancy script letters. But this method can take a lot of time if you get carried away with designs.
Stencil and paint – If you are using a stencil, you only need to cut out 26 stencils 1 time and make sure they have both the letter and number on the stencil and size it to fit a 4"x4" piece. Keeping in mind that a 4"x4" is actually 3.5"x3.5", you will need to line up the corners and paint over the stencil.
And that's it! Your backyard scrabble game is done!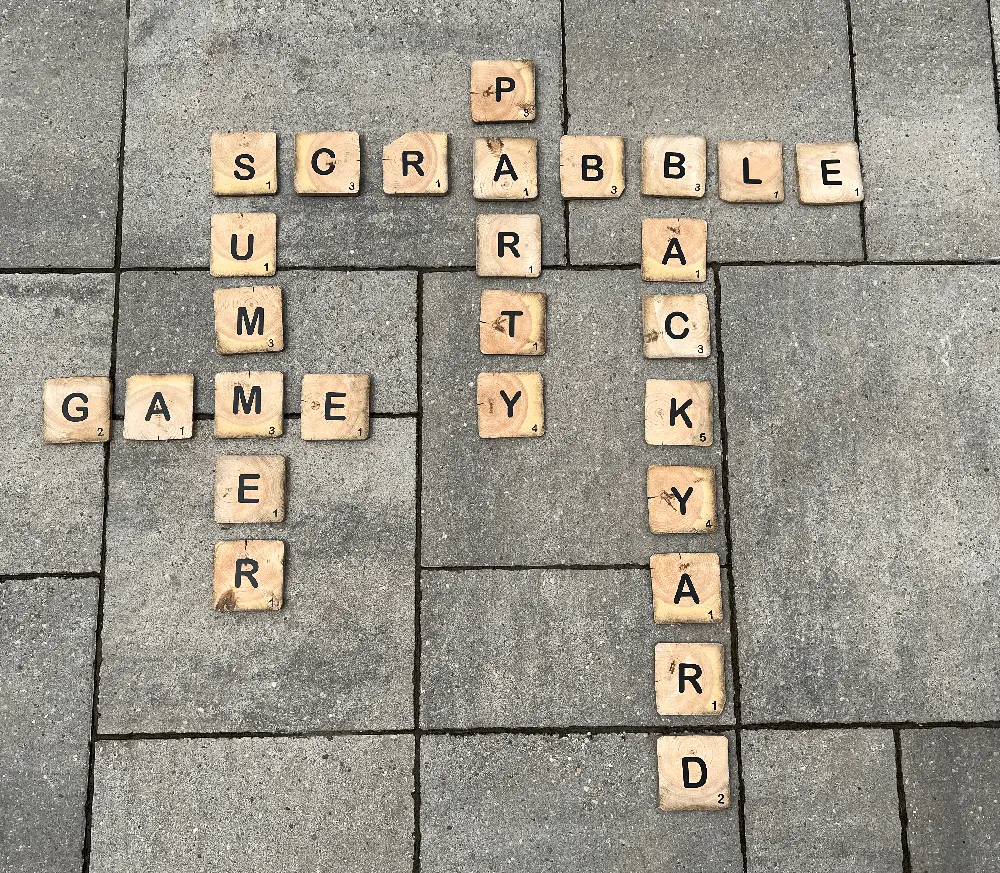 You can also watch my video here.
Frequently Asked Questions about backyard scrabble game
What material is best for making a backyard scrabble game?
I used a 4"x4" wood post that I had leftover from fence work we did in the backyard. But any size wood will work. The bigger they are, the easier they are to see, but also the heavier they will be, and the more space they will need for storage. I have all of my pieces in a bag that I sewed.
You can use tiles, but they tend to break, and you don't really want to have a whole lot of broken pieces.
Also, my 4×4 was pressure-treated wood, but you can use cedar, which has a nicer color but is also more expensive.
What do you use as the board on backyard scrabble?
You can play on any surface, the grass, the patio, the deck, anywhere. You don't need a game board!
When playing backyard scrabble, the rules are a bit different. There are no double point spots or triple word points. All letters in all locations are only worth the base value.
where do you hold your letters for backyard scrabble?
I currently have not created letter holders for backyard scrabble so, we just lay our letters on the ground in "our area". As my kids are still small, this helps everyone easily see the letters and help suggest words.
Also, holders for large scrabble letters will take up more space, and I'm currently not willing to give up my limited space for letter holders.
How many letters are in scrabble?
The standard Scrabble game has 100 pieces. 98 of them have letters, and 2 are blanks that can be used as any letter.
how to play backyard scrabble
To play backyard scrabble, all you need is some open space. It can be a back patio, a deck, or an clear spot of grass.
Pick out a letter from the bag, and whoever gets a letter closest to A goes first.
Every play player gets 7 letters from the bag.
The first player lays down a word in the center of your designated area.
Each player replaces the number of letters they use in each turn until there are no more letters in the bad.
Points are counted for each word but add the sum of all the letter values.
The next player then will try to create a word using one of the letters from the first letter on the board, and the letters will be laid down perpendicular to the first work. So if the first word is left to right, the second word will be up to down.
Each subsequent player follows the same idea as the previous player, but they now can use all of the words on the board.
The game continues until all the letters have been used up.
The winner of the game is the player with the most points at the end of the game.
Did you find this DIY Backyard Scrabble tutorial helpful?
Did you find this DIY Backyard Scrabble Game tutorial helpful? Have you try it yourself? Check out my other wood crafts here.
Sign up for my newsletter to get access to my Resource Library and the inside scope on what is coming up!