Hair Accessories Are Everywhere!
If you have girls, you will very quickly accumulate an unimaginable amount of hair accessories. I am not joking. I am not just talking about hair elastics and brushes. There are hairbands, and bows, and clips and scrunchies and flowers, and more. The list goes on. For the longest time, all of these accessories were in a bin, and when the girls wanted a hair accessory, they could reach the accessory bin. But when their little brother came along, that bin got moved, and there was sadness in the house because they could not reach their hair accessories. Now that little brother is older, we have made a hair clip holder for their room to allow easy access to their hair clips and bow and flower, and more.
This post contains affiliate links.    I may receive a commission if you purchase an item from one of my links. This will not change the price you pay.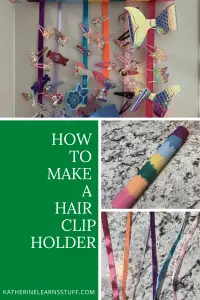 What You Need:
Hair Clips.  Lots and lots of hair clips.  Bows will also work.  Really, any hair accessories that get clipped into hair will work.  If you do not have hair clips and bow, you can check out this tutorial – How to make hair bows, you know, just in case 😉 
An empty paper towel roll – I use old vinyl rolls, but even a toilet empty paper roll work.
Paint – Any paint will do.  I use acrylic because that is what we have in the house, and I buy it for relatively cheap, but any paint you use for crafts works.
Ribbons – You will need lots of ribbons and in lots of colors.
Glue – I use my glue gun as it dried fast, but using regular craft glue works as well.  It will just take longer to dry.
Wall Hooks, nails, or screws – I use 3M command strips and 3M hooks. This way, I can take them down if needed and not worry about ruining walls or furniture
Let's Begin!
Paint your cardboard roll
The cardboard roll is the first thing to be worked on. And this the ideal spot to get your kids involved.
Let them paint the roll. Get several rolls if you can, and have them paint a bunch. That way, it can be an activity for the kids as well.
But if now, you can simply paint the roll any color(s) you like.
We opted for a rainbow look.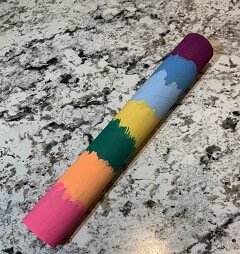 Apply the Ribbon
The ribbon is used for two things:
Attachment points for the hair clips, and
Hanging the whole hair clip holder. 
Attachment ribbons for hair clips. Depending on how many hair accessories your children own, you can use more or fewer ribbons. But for the purpose of my hair clip needs, and I know there will always be more hair clips, I am using 6 ribbons. Each one is about 10-12 inches long.
Using some glue, I glue them around the cardboard tube and let the excess ribbon hang down.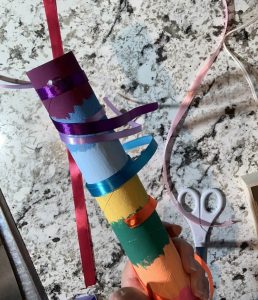 Ribbon for hanging the hair clip holder. This ribbon will need to be just over two times the length of the tube. If you are using a paper towel roll or an old vinyl roll, it should be about 30 inches long. Around half that, if you are using a toilet paper roll. You want it to go through the tub and tie the two ends together.
Make sure not to get this caught in the glue and with the other ribbons.
Once the ribbon is tied up, it just needs to be rotated, so the knot is hidden.
Instead of going all the way through the cardboard roll, you can attach it to the ends with glue or make holes, but I opted for one long stand.
Once all the glue dries, hang it up in your desired location and add all your hair clips, bows, barrettes, and accessories!
And That's It! You're Done!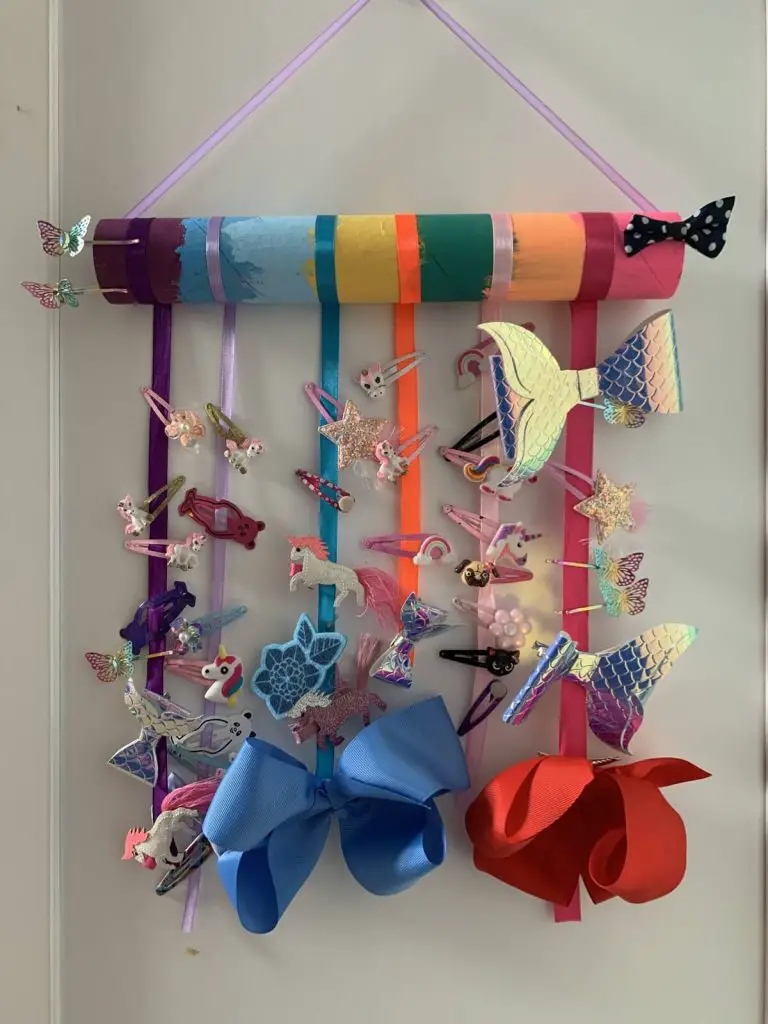 Things I Learned Along The Way
While working on this hair clip holder, I learned a few things.  As always, some final pointers and tips from my learning experience:
With the amount of wear and tear that happens to cardboard rolls at my house, a vinyl roll worked ok as it was not squished and bend from sword fighting. But a paper towel roll would work just as well, so long as your kids do not decide to play with it first.  
My kids have lots of hair clips, barrettes, bows, and whatnot. This setup lets them pick and choose what they want to have in their hair and when. I have it in a visible spot in their room to allow them to access it easily. And, more importantly, they can put their clips away when done.
Instead of using a paper towel roll, I could have opted to use a spare piece of wood, like a toe board, but I have lots of tubes around the house, so this is the way I went.
Also, rolls from aluminum foil, parchment paper, or wrapping paper will work. I find that the thicker ones have better integrity and last longer.
The nice thing about using a cardboard roll is that when the design no longer suits my kids, I can pull the ribbons off and make a new one. Either by repainting the cardboard or by pulling another cardboard roll out of the pile.
Although this final hanger does not weigh very much, once all the clips are attached, that might not be the case anymore. Make sure you install the hooks before you plan on using them. That way, nothing will fall off the wall or dresser.
Was this Tutorial Helpful?
Did you find this tutorial helpful?  Let me know your thoughts in the comments below!
If you liked this tutorial, be sure to check out my other tutorials here.
Don't forget to sign up for my newsletters!  You'll get inside tips on upcoming posts and additional behind the scenes details about what's happening on the site!