We love to spend time outside in the summer, if not on the swings, in the pool or just lounging. But sometimes, we need some game to spice it up. One of the games we like to play is Yardzee. It's the large-scale, outdoor version of Yahtzee. It is a simple project to make, and will provide hours of fun! So, let's learn how to make Yardzee.
This post contains affiliate links.    I may receive a commission if you purchase an item from one of my links. This will not change the price you pay.
Supplies needed to Make a Yardzee game
Like with most of my projects, I like to use things I have leftover from other projects, but that's not necessary. You can always buy all the bits and pieces new.
Wood to make dice – I used an old 4×4 that I had left from a fence post, but any wood sizes can be cut into cubes.
Saw – to cut the wood – I used a mitre saw
Adhesive circles – you can buy black circle stickers or use vinyl and your Cricut to make your own.
Optional – Sander or sanding blocks.
Let's start making Yardzee!
cut the wood to make dice
The first thing we need to do is make the body of the dice. I had leftover fence posts that was a 4" x 4″ beam. But any square-ended beam will work. It is just important to remember that the size of the square beam is the wet size, and when the beam dries, it shrinks.
Measure the beam so that you have a cube. You can reference the list below for other sizes. For mine, I measured 3.5" on the beam.
Using my mitre saw, I cut 5 cubes out of my beam.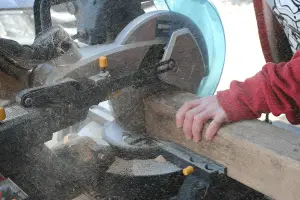 standard beam sizes
All beams are smaller when they dry, below is a list of some standard sizes you can use to cut your dice, the first value is their wet/at cut value, and the second is the actual size.
2×2=1.5×1.5
4"x4" = 3.5"x 3.5"
6"x6"= 5.5×5.5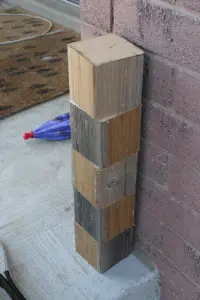 Optional Sanding
Once you have all 5 cubes cut to size, you can send the edges. Four of the sides will be slightly rounded from the outer edges of the 4×4. If you sand down the edges on the sides that you cut, you can make the cubes even.
I just used a sanding block because I wasn't able to find my electric sander, but it only took a few minutes of time.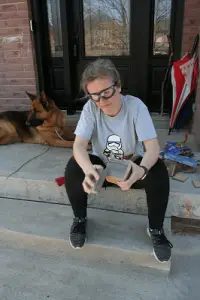 Optional painting of the Cubes
If you do not like the appearance of wood, you can paint the cubes to be white, black or any color of your choosing. I like the wood look, so mine are staying plain.
Apply Dots to the Dices
Now that the cubes are all cut and sanded, it is time to apply the dots to the cubes to make them into dice. There are several ways you can do this.
Vinyl – either permanent vinyl or just plain old stickers. I like to use permanent vinyl.
Paint and Stencil – You can make a stencil of all 6 sides of the dice and then paint them on. With a stencil, you can quickly repeat all 6 sides of the dice. I quickly sketched up some dots on my Cricut Explore Air 2 to have them aligned properly. You can get a copy of the stencil by signing up to my newsletter and gaining access to my resource library.
Paint and free-hand – As always, you can quickly make dots by free-handing them onto the cubes with paint. This makes them authentic but less professional-looking.
For my dice, I made stencils with transfer paper on my Cricut for each of the numbers, and then I painted the dots through the stencil. Make sure that the stencil sticks to the wood completely so the paint doesn't leak. I reused the stencil for all the dice, but I could have used a new stencil for each die if I wanted to.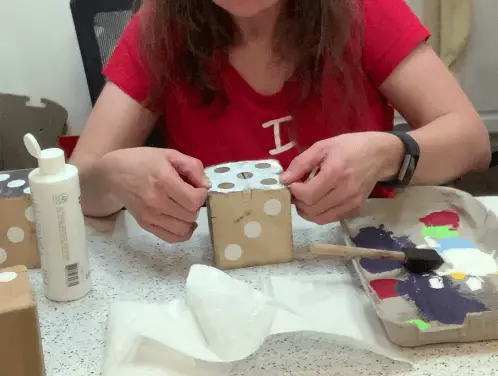 Once all the dots are done, your dice are done and you are ready to play Yardzee!
And that's it! Your Yardzee Game is complete!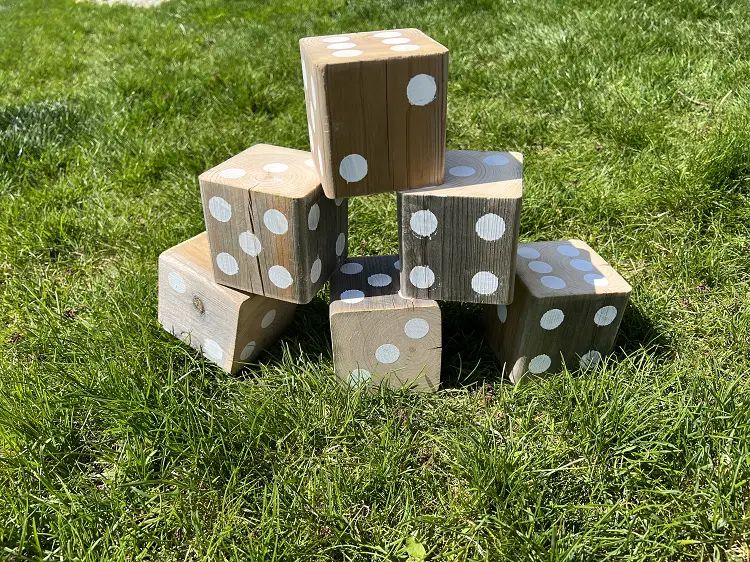 Watch the video on how to make a Yardzee game here
Frequently asked questions about Yardzee
what is yardzee?
Yardzee is the game of Yahtzee, but played with large dice and outside, in your yard.
what are the rules for Yardzee?
The rules for Yardzee are the same as Yahtzee, and the full set of rules can be found here.
Where do you store your yardzee dice?
There are a lot of options on where you can store your dice, I made a simple cloth bag for them where they hang in the back shed. Another good storage location is in a utility bucket from your local hardware store.
Did you enjoy this tutorial?
Did you enjoy this tutorial on how to make Yardzee? Let me know in the comments below. And share your results below!
Don't forget to check out my other wood crafts here.
Sign up for my newsletter to get access to my Resource Library and the inside scope on what is coming up!
Don't want to read all the details? Check out my YouTube video!