I am a t-shirt kind of person. If I could, I would wear t-shirts all the time. The one problem with old t-shirts is that they become old and grungy looking, especially, around the armpits and collars. So, I have learned how to upcycle a t-shirt to a tank top to give it some more life! Sadly, this means I can only wear it during warm weather, but that is better than never being able to wear it again!
This post contains affiliate links.    I may receive a commission if you purchase an item from one of my links. This will not change the price you pay.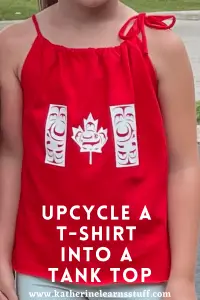 What kind of t-shirt can you upcycle to a tank top?
The great thing about making tank tops is that you can use any old or new shirt that you want to spruce up. Some of the shirts that I have used in the past:
Hubby's old shirt to make tank tops for me
My old shirt to make tank tops for me
My old shirt to make long tank tops for my kids
Kids old shirt to make tank tops for my kids
New (blank) t-shirt for my kids and me to make tank tops with custom designs.
There are other combinations and types of shirts that can be used, but I found these were the ones that worked best in our house.
materials and tools you need to make a tank top from a shirt
This list is a simple one, but here goes
Scissors
Space for cutting – kitchen table and floors work great.
Sewing machine/needle and thread
Let's begin making the tank top!
The design I am going for is probably the most simple tank top design, but I think it looks cute and it is quick to make. So, once you have your shirt selected, layout flat on your cutting surface. I used my kitchen table. If the shirt is wrinkled or has large creases from being folded, it is best to iron it out before the next steps.
Once the shirt is flat, get your scissors ready!
Cut the sleeves off, making sure that you cut the seam off.
Then, cut a straight line just below the collar from one side of the shirt to the other.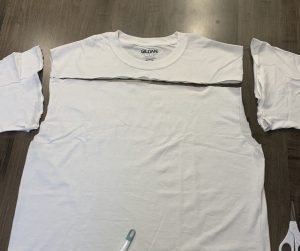 Cut the straps for the tank top
There are two possible ways to cut the shirt for the straps. You can use the top or the bottom part of the shirt. I will walk you through both options
Option 1 – Cut the Straps off the top of the old shirt
You will need to cut a strip of fabric off the top front and top back of the shirt. Measure a section about 1/2″-1″ wide for cutting. This is the location where you cut the collar off moments ago. This cut fabric will be used for your straps.
This method allows you to retain the bottom seams sewn on the shirt.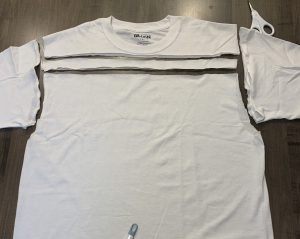 Option 2 – Cut the Straps off the Bottom of the Old Shirt
Make sure the shirt is flat and straight. Cut the seam off the bottom of the shirt, as straight as possible. Then, measure a section about 1/2″-1″ wide, at the bottom of the shirt and cut it off. This section will be used as the straps for your shirt.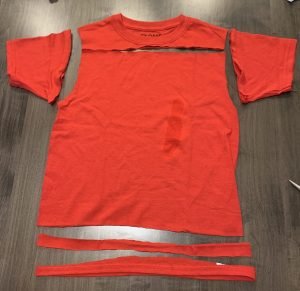 If you use this method, it will give a nice curl at the bottom of the shirt, but it will also reduce the overall length of the shirt. This method works great when making kid's shirts from adult shirts or using new blank kid's shirts because they are always long.
Time to Sew the Collar
There is very minimal sewing required for this project. If you do not have a sewing machine, that is ok, you can use a needle and thread.
At the top of the shirt, fold inwards and pin the shirt. You want this fold to be just larger than the strap you cut above. So you want this to be about 3/4″-1″ wide. Do this for both the front and back of the shirt.
Sew the front and back separately. Make sure not to sew near the top of the collar. The stitch should be about 3/4″-1″ down from the top of the shirt. Also, do not close the ends.
Now your sewing is done.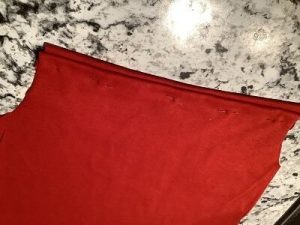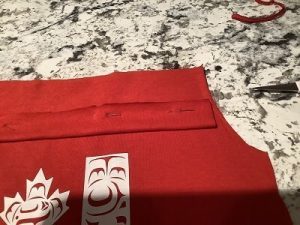 Install the Straps
The strap material you cut above will now be pulled through the new collar you have created.
If you did option 1, and cut the bottom of the shirt, just make 1 cut in it to make a long piece of fabric. Pull it through the front and back collar and tie a nice bow.
If you did option 2, you already have 2 pieces for the straps. This design will have 2 bows, one on either side.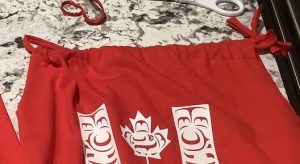 And that's it! You're done upcycling your t-shirt to a tank top!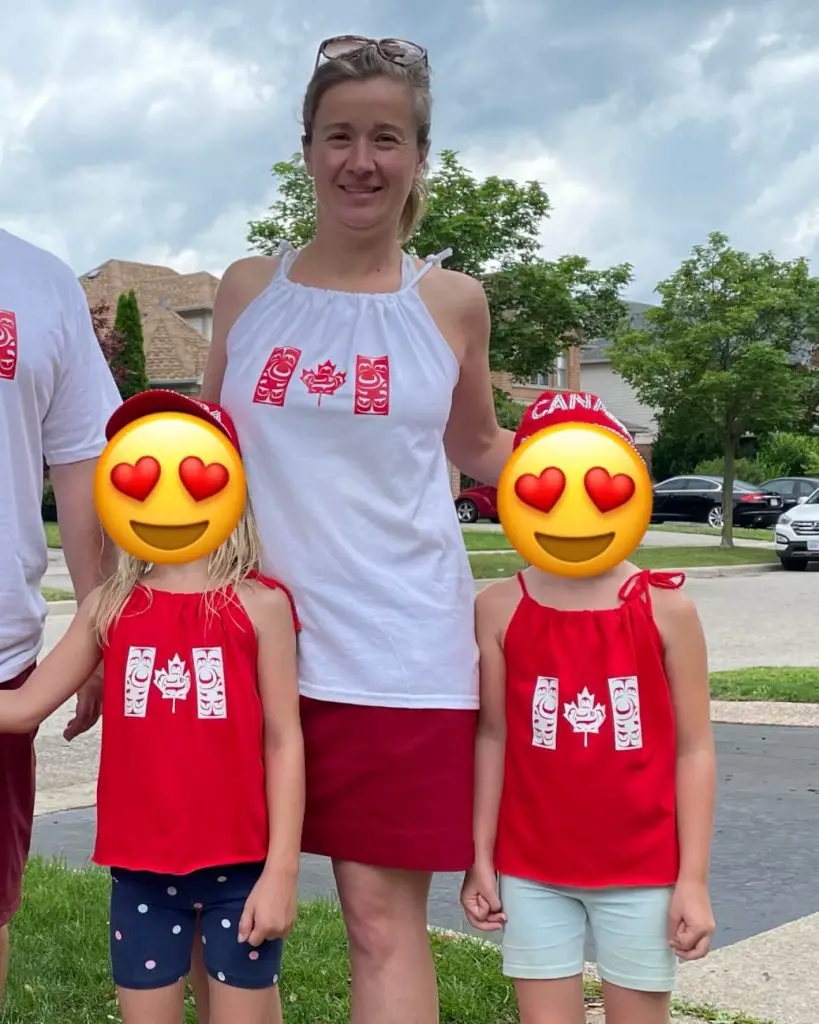 Optional Accessories for your Tank Top
I used part of the t-shirt to make the straps, but I could have used a colored ribbon or bias tape instead.
If you are using a blank shirt, you can create great designs on these tank tops and customize them even more. Let your imagination go wild! I use my Cricut Explore Air 2 and HTV to make all sorts of shirts. You can also check out my tips and tricks for selecting your design size and how to center your design here.
Tips and Tricks for your DIY tank tops
I have made several sets of tank tops like these, and they are great fun for the summer. Sadly, they are really only a summer or vacation shirt. So, even if you are trying to extend the life of a shirt, it will be only for the warm months. Unless, of course, you live where it is hot all year round.
Using an old shirt for this is great. Keep in mind though, even if you cut off the dirty and falling apart sections, this tank top will only last so long. After repeated wear and washing all fabric will lose its integrity and fall apart.
When using boy shirts, keep in mind that boys do not typically like these kinds of tank tops or any tank tops for that matter. So do not try making these for the boys, unless specifically requested to.
Did you find this tutorial helpful?
Did you find this DIY tutorial on how to upcycle a T-shirt to a tank top helpful? Let me know in the comments below!
Also, don't forget to check out my other sewing articles found here.
Don't forget to sign up for my newsletters!  You'll get inside tips on upcoming posts and additional behind the scenes details about what's happening on the site!