For anyone that does crafting, you will sympathize with me when I say my crafting area is a mess. It's an even bigger mess right after finishing a project… Or 5.
I've been on a shirt making kick again. I've made a bunch of shirts as gifts and at the end of the day my space is a mess. But that's not the end of the story. I still need to wrap and give these gifts.
Some of these shirts are for one-time use.  I'm not overly concerned (although still concerned) about how long the HTV sticks to these shirts.  Most people won't wear this shirt out of the house a second time.  The shirt will be lucky to see daylight on a cleaning or gym day.
Some of the shirts are for multiple-time-wearing.  These are the shirts I'm really concerned about. 
These shirts need to be taken care of by the end-user. They need to know what not to do with these shirts. Because the last thing I want to do is give a gift to someone that is ruin after the first wash.
When I'm done projects, my workspace is a mess, and I'm typically limited on time to wrap the gift let alone provide how-to-care-for this shirt instructions. These instructions can take more time than making the shirts, especially when you only have 5 minutes to get out the door.  
I saw something similar to this once before on one of the pages I follow and I thought this was worth sharing with everyone.
I have pre-made a pile of instruction sheets.  When the pile is low, I restock it so that I always have some laying around.  For me, this is a great time saver and helps with my organization.  If you make products in bulk, you really need to pre-make an instruction sheet and have it ready
This site contains affiliate links
I've been in a shirt making mood.  Between shirts for birthday gift and end of year school gifts for teachers, a lot of shirts have made it out the door recently.  One thing I find particularly handy is having some pre-designed and pre-cut washing instructions for my HTV shirts.  
Keeping organized and having a pile of these printed off in advance makes for a quick addition to a shirt or product you make.  This avoids wasting time trying to get one made up as a last-minute afterthought.  
Mine all have the same washing instructions, but it's fun to put then on different designs so they can go with your product.  For shirts, I use a shirt cut out. But if you do tote bags or hats or whatever, customizing the label to look like the product always gives it that extra something.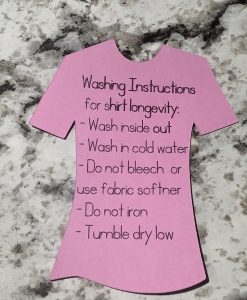 A reason to make a washing instruction sheet – it doesn't need to be shirt specific.  It can be for anything you make in bulk that requires instructions.
A way to draw/type and cut.  I use my faithful Cricut
 Paper (I used cardstock).
Pen – if you have a Cricut you can use your Cricut pens or Cricut compatible pens.
If you don't have a machine to cut you'll need scissors…. remember don't run with those.
This one is pretty quick and simple.  Most HTV has the rules in the pictures I have above. Some might have more, some might have less, but the idea is the same.
Write the instructions – I did this in Design Space (DS) but you can do this by hand or on the computer to just print out.
In DS set the words to DRAW instead of CUT. 
Find an images (or make one) of something related to your product for added personality.  Or you could just leave it as a simple square.  I found a free image in Design Space of a shirt and attached the two together.
Send to cut or print depending on your applications.
If you're using a printer and scissors, cut the instruction out.
Make a bunch so you always have them handy when you need them.
Obviously, you can do this by hand with a printer and computer and scissors or whatever works for you.  But, as I've mentioned before I have no printers and I find that my Circut allows me to do lots of the finer details I need but with a bit more personality.
Feel free to use the above notes to help make your own washing instructions!
And That's it! You're Done!
Was this Tutorial Helpful?
Did you find this tutorial helpful?  Let me know your thoughts in the comments below!
If you liked this tutorial, be sure to check out my other tutorials here.
Don't forget to sign up for my newsletters!  You'll get inside tips on upcoming posts and additional behind the scenes details about what's happening on the site!