How to Make A Canada Day Shirt
Canada Day is almost here!  What better way to celebrate this holiday than to wear your own Canada Day Shirt!  
This site contains affiliate links.
 You need to have a Canada Day Design of some sort in mine.  For simplicity, I'm just going to do Canada and a Maple Leaf.  
There are lots of designs you can find online but I'm simply taking a free maple leaf from design space and using a basic font.

This is the design I'm going with for my shirt, shown on the right.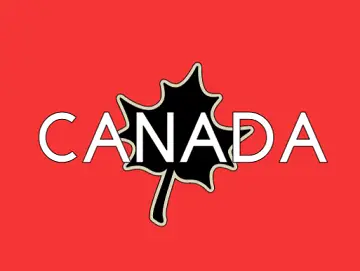 2.  If you are using simple transfer sheets that you can print on, just print off the design on your sheet.  I recommend you do a sample run on a regular piece of paper so that you don't waste your transfer sheets.
You will need to cut your design out by hand, either using scissors or a share blade.
If this is your preferred method of making shirts, you can use my free design to print and use
2. If you are using a Cricut, send the design to cut.  You will need to use the same number of vinyl colours/sheets as you did for the color or your design. 
For my design, I'm using black and white so I will have 2 cuts.  As per usual, I try to do the cut at once so I arrange my print layout to do multiple colours at once as shown below.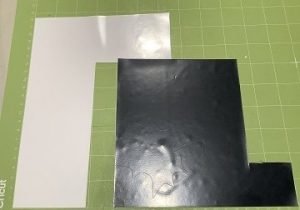 3.  Find the center of your shirt and iron on the design.  If you have troubles with finding the centre of your shirt, check out this quick tip for centering your design
4.  If you are layering your design with multiple colors like mine, make sure you do  a quick press for the first layer and peal the carrier sheet.  Do the same for each subsequent layer.  Once all of the layers are on the shirt you can do your final pressing of the shirt.
And That's It! You're Done!
Was this Tutorial Helpful?
Did you find this tutorial helpful?  Let me know your thoughts in the comments below!
If you liked this tutorial, be sure to check out my other tutorials here
Don't forget to sign up for my newsletters!  You'll get inside tips on upcoming posts and additional behind the scenes details about what's happening on the site!